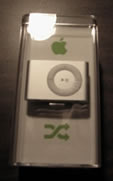 For everyone that joined me in the Hedgestreet iPod promotion, your patience should be rewarded shortly. In fact, I'd check your inbox for an e-mail titled "HedgeStreet iPod Shuffle Promotion" if you haven't gotten it already.
I think I should be getting two more of these puppies later for the referrals I gave out (thanks!), as I got multiple iPod e-mails. I decided that one of these will be given away as a prize for my Make A Goal Experiment. The other one, we'll have to see…
If you did it right, the $79 Shuffle should have cost under $3 – or maybe you even made money! This is another one of my little activities that nets me an extra few thousand dollars a year. Here's to free stuff!