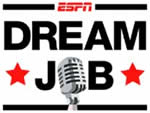 My wife and I are both job-hunting, and I've been thinking a lot about careers in general. I also recently watched the movie High Fidelity. If you haven't seen it, there is a scene where John Cusack has a list of his top 5 dream jobs if "qualifications, history, time, and salary were no object." After going through them, he realizes that he is already doing one of his dream jobs, owning his own record store. So I wondered, what are/were my dream jobs? Here they are, sorted by era, along with why it didn't work out.
High School – High School Math Teacher
High school was where I first realized that good teachers can change your life by showing the beauty in a subject. Seriously. I also tutored some math and ACT/SAT students, and it was very rewarding. The problem? I was afraid that I would feel more like parent than a teacher, and I don't have that kind of patience. Also, let's face it, the pay is horrible.
College – Professor of Physics [at a small liberal arts college].
I still think about this sometimes. I love physics, also in large part to a great teacher. Besides the difficulty in getting the degree, the number of Physics Ph.Ds churned out every year compared to the number of tenure-track positions available is insane. You need to graduate from a top school to even have a chance. On top of that, you would have no power to choose where you lived. If a position opens up, you had better take it!
Corporate Worker – Optometrist
I have to admit, this was a very selfish choice. I was tired of feeling like an under-appreciated worker bee, and I wanted out. Being an optometrist seemed like the best combination of salary, autonomy, and quality of life. I really have no idea what the true life of an optometrist is like. It also would have required a lot more schooling and tuition.
Currently – Own My Own Educational Software Company
See a theme? I think that educational software is going to be a huge field in the future. We need to improve how our children learn. If the government doesn't support this, then pro-active parents will buy it themselves as a supplement. You already see this in many areas, such as the SATs. I still have a ton to learn before I can achieve this, and my dream job may change in the meantime, but there you go.
So, what's your dream job? (Pro athlete or big-inheritance aspirations aside.) It'd be especially awesome to hear from people actually doing their dream jobs.