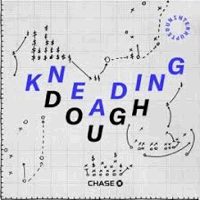 Another podcast that I discovered late is Kneading Dough, where famous athletes sit down and talk openly about their finances. Created by UNINTERRUPTED (founded by Lebron James and Maverick Carter) and sponsored by Chase, guests over the three seasons range from Lebron James to Serena Williams to Simone Biles. The description sounded similar to Celebrity Money Diaries.
Despite the old saying about death and taxes, studies show that personal finance is actually the most difficult topic for most Americans to discuss. But while most Americans aren't comfortable revealing their finances, athletes' money mistakes are splashed across newspapers and the internet.

Chase's Kneading Dough series connects the money challenges of average people to the hard-earned lessons of pro athletes. In exclusive, one-on-one interviews, famous athletes discuss how they learned to budget responsibly, balance the needs of career and family, and prepare for retirement.
You can view all of the shorter video interviews on this YouTube playlist, but the podcast version includes the full unedited interviews.
In the end, these are often people who were not born into wealth, so I did find them relatable and enjoyed the casual conversational style. You hear straight from Lebron how he handled the fame and responsibility of becoming the family breadwinner at age 18 (and how other athletes handled huge windfalls and learned to manage their budgets), but also how one navigates the more modest WNBA max salary of $110,000 a year (now higher but the average player earns $130k). There are amusing moments like how Serena Williams tried to deposit her first million-dollar tournament check at the local bank drive-thru window, which the teller didn't know how to handle.