Good financial advice is hard to come by. There are so many variables, such that you have to find the balance between providing enough information, and making things digestible enough that peoples' eyes don't glaze over.
Check out this advice column found in the newsletter that comes in my 401k statement each month. Can you spot what's missing?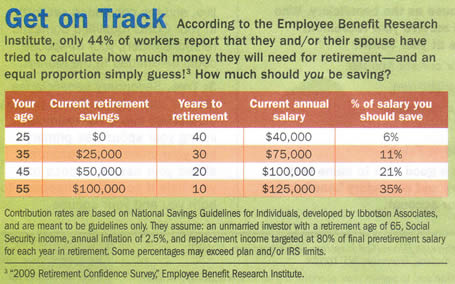 There is no mention of what investment vehicle you should be sticking your money in, or even how much they estimate your future returns to be. Is it 100% stocks? 50% stocks/50% bonds? Orange juice futures? 6% returns? 12% returns? Who knows. Is this pre-tax or post-tax? Is it all in tax-sheltered accounts? Is my annual income supposed to rise as sharply as the chart seems to imply? I selfishly hope so!
Yet, I feel like this is what a large percentage of workers want to read. One impossibly simple chart that defines your retirement needs. So someone gives it to them. Maybe it gives them a general idea of where to start. But is a vague, possibly wrong answer better than guessing? I feel another poll coming on…

Loading ...