While walking through an IKEA home furnishings store last week I saw a bunch of neat "model homes" that took up very little space. Supposedly every IKEA store has their own sampling of small space floor plans – only a few are profiled on their website – so here are some pictures and videos that I took with my smartphone. (Apologies in advance for the poor film quality.) Some of the tight designs require specific wall positioning, but many of the concepts could be used to maximize the space in any home.
590 sf Floor Plan – 1.5 Bedroom, 1 Bath
This home is designed for a young couple with a young child. The kitchen island doubles as the family dinner table. The main bedroom is a pretty decent size, and floor-to-ceiling closets and shelving maximizes storage. I call this a 1.5 bedroom floor plan because the "kid's room" is fine for a crib but would be really tight for a twin bed. If you could move walls you could take some space from the kitchen.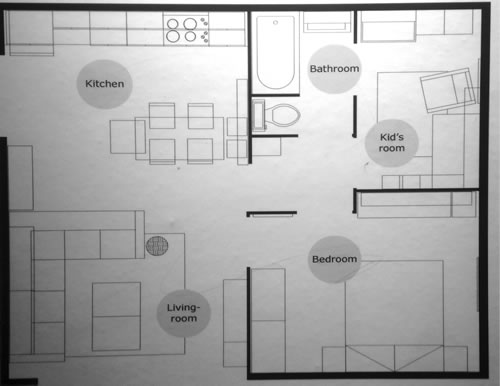 380 sf Floor Plan – Studio w/ Separate Bedroom
This studio layout means there are no walls between the bedroom and the living room, but at least they are separate spaces. The kitchen is actually a pretty good size, but there is no room for a dining table. I think the kitchen counter is meant to be the eating space. Designed for one or two people.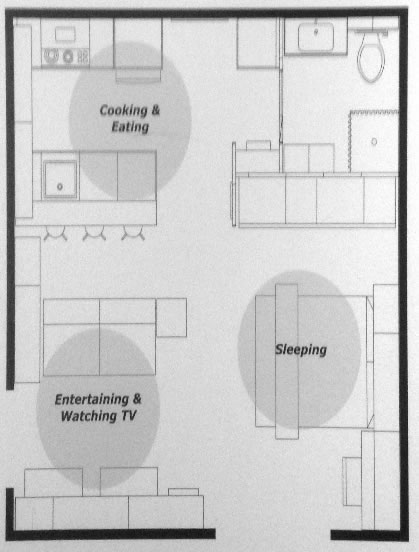 240 sf Floor Plan – Studio w/ Combined Living Room and Bedroom
This mini-studio includes a futon that converts from couch to bed, while the small dining table doubles as a computer desk. It definitely feels cramped even with the huge wall cut-outs, but it does have everything one person needs in only 240 square feet (smaller than many bedrooms).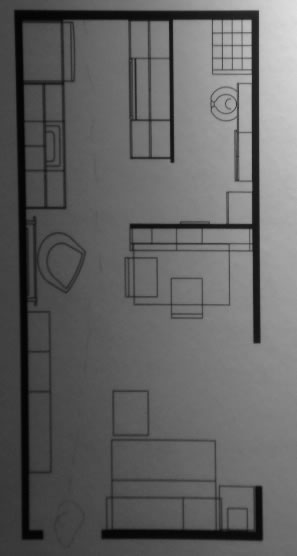 Related posts: