Last week, New York City mayor Bloomberg announced a design competition for new "micro-unit" apartments ranging from 275 to 300 square feet (press release). The goal is to address the increasing demand by smaller households, as the average rent for a studio in Manhattan is now $2,065 a month. Here's a sample proposed layout:

(Via
NY Daily News
)
I've always been intrigued by small spaces, from tiny homes that you could buy with P2P loan instead of a mortgage, to the capsule hotels of Tokyo. Even if you don't live in such a place, I think everyone can still learn from them new ways to use their own space more efficiently.
Go vertical to maximize space.
The NY Post did a profile of a young couple who live in a 240 square-foot studio in Brooklyn Heights. The picture below pretty much includes the entire place, with the ladder leading up to their bedroom: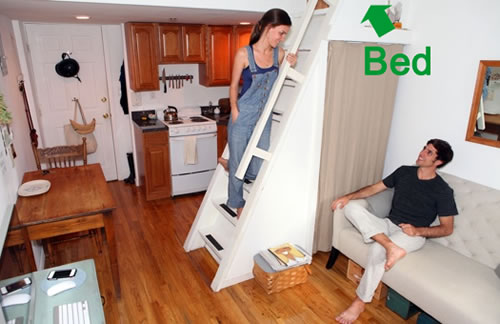 Just like bunk beds and college dorm design, raising a bed is often the easiest way to get more storage or desk space. This concept doesn't just apply to beds though. Put new shelving and storage up higher – look for wall space above toilets, above sinks, above your bed headboard, above desks. In your garage or carport, store bicycles and more in the space above your cars.

Buy one thing, get rid of another.
The free gym at my last university was always quite crowded, leading to a "one out, one in" policy where you had to wait for a person to leave before you could enter (also used at nightclubs, or so I've heard.). If you want to avoid stuff overload, you should implement the same policy when buying new things. Throw away, donate, or sell. New pants in = old pants out. New toy in = old toy out.
Use creatively-designed furniture.
Raising beds can get tricky for those with physical handicaps. I've always like the idea of Murphy wall beds as an alternative, and am thinking of installing one in my current office to be an extra guest bedroom with this DIY kit. There are a lot of other cool multi-tasking furniture out there as well. Some can get pretty expensive, but it may be worth depending on the cost/square feet in your area.
Here's a cool video from a previous post on Resource Furniture:
Here's another video of an apartment in Hong Kong that uses sliding walls to transform one big room into either a bathroom, kitchen, living room, or a bedroom. Very innovative, and all in 32 square meters (~345 square feet).