Inside this Morningstar article discussing the choice between a prepaid 529 plan or a 529 college-savings account, there was an updated chart comparing the 10-year growth rates of tuition at 4-year public and private universities, the S&P 500 index, and the Barclays US Aggregate Bond index. A blended 60% stock and 40% bond portfolio would have returned 6.34% annualized.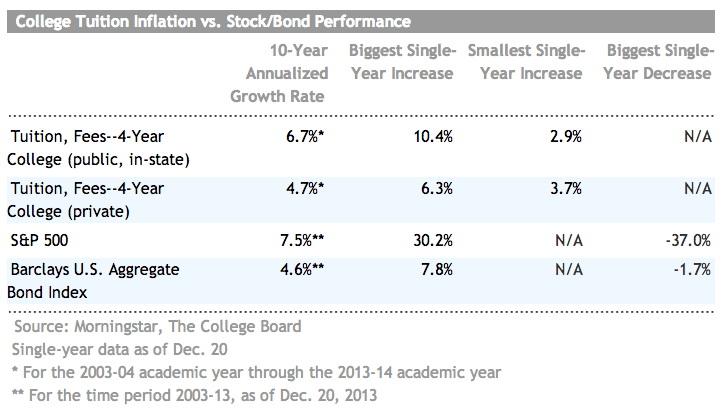 There used to be some great prepaid 529 options out there, but they have been gradually going away. Only a few states even offer a prepaid plan anymore (Alaska, Florida, Illinois, Maryland, Michigan, Massachusetts, Mississippi, Nevada, Pennsylvania, Texas, Virginia, and Washington). I'm not familiar enough to recommend any one in particular, but I do know people who still invest in both the Washington and Texas plans. You should look for one that provides at least some investment return if the student ends up going to an out-of-state school.
For many of us the traditional stock/bond route will have to do, which we see would only have just about kept up with tuition inflation over the least 10 years. I still can't see tuition compounding away at 8% annually for the next 20 years, but I will probably make my 529 contributions under the assumption that a 60/40 stock/bond portfolio will only keep up with tuition over the long-term (as opposed to contributing less and hoping stock performance will cover the gap).