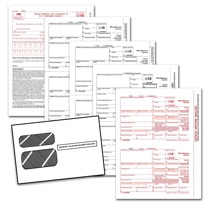 Did you as a small business pay another person or unincorporated business more than $600 total in the last year? You may have to provide them a 1099-MISC form.
Here are the specific rules as laid out in the official IRS Form 1099-MISC Instructions [pdf]:
The Internal Revenue Service (IRS) requires businesses (including not-for-profit organizations) to issue a Form 1099 to any individual or unincorporated business paid in excess of $600 per calendar year for services rendered. This is required whether these payments are spread out over the course of the year or are paid in one lump sum payment. The most effective way to obtain the information needed to prepare the Form 1099 is by requiring that an IRS Form W-9 be completed prior to any payment being made. The penalty for failure to file Form 1099 can be as much as 50% of the amount paid for services.
Note that last sentence: The penalty for failure to file Form 1099 can be as much as 50% of the amount paid for services.
The 1099-MISC forms must typically be sent out to independent contractors by January 31st following the end of the tax year in which you made the payments. You must also file a Form 1096 and submit the information to the IRS by March 31st.
If you've got your own accountant or payroll service, then you can pay them to generate the proper forms and send out these 1099s. However, I have done it myself as well, as it is not very difficult. Here are your options for generating and issuing a Form 1099:
The easiest way would be to use a computer printer, but of course the IRS doesn't make it that easy. In order to get the numbers "set" correctly for printing, you could be one of many free homemade templates out there (although I can't vouch for any specific one as they may contain viruses or malware, etc). You can also buy forms + software packaged together to fill them out. Don't forget to fill out the red copies for the IRS.
You can also fill out the official physical forms with a typewriter, or you can even handprint if you follow the IRS directions very carefully. Note that you cannot use the blank 1099 PDFs that you find online; they are only examples.
Finally, remember that your first job is to get a W-9 form [pdf] filled out by the person you paid, so that you'll have their Tax ID to enter onto your tax forms.