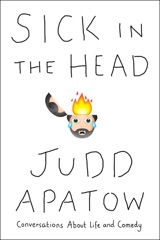 I've never really identified with comedians. I'm not funny, and I always avoid large crowds. But after reading the fascinating notes at The Waiter's Pad, I had to read the new book Sick in the Head: Conversations About Life and Comedy by Judd Apatow (Knocked Up, This is 40, Freaks and Geeks). It is not an autobiography, but instead a collection of intimate conversations with famous comedians including Mel Brooks, Jerry Seinfeld, Jon Stewart, Roseanne Barr, Louis C.K., Chris Rock, Amy Schumer, Seth Rogen, and Lena Dunham.
Comedians are virtually required to be nonconformist and view the world differently than everyone else. Otherwise, they wouldn't be funny. Those are also important traits to have for a person who want to be financially independent, at least before the Social Security checks start arriving. I found myself relating to their stories on many different levels. Here are some selected quotes and my takeaways from this book.
Find people who encourage your voice and originality. Find your tribe. Judd Apatow started working at comedy clubs when he was 15 and spent several years as a stand-up comic before becoming a well-known director and producer. He knew he was different, and so he started interviewing his idols for his high school radio station. After high school, he moved to the LA comedy scene and became roommates with people like Adam Sandler. I often see "tribe" defined as "followers" or "hardcore fans", but I think it is enough to find people with similar interests and passions.
For example, most people will never really consider financial freedom. Most people just want to be like everyone else, except maybe a bit richer. That or hit the lottery. The reality is that you have to be different and embrace it. The good news is the internet allows you to find people who are different just like you, or at least close enough that you can learn an enormous amount.
Hard work with focus. To be successful at anything, you need a combination of hard work, talent, and the ability to maintain the proper focus.
In the book, multiple comedians use Jerry Seinfeld as an example of the rare combination of very talented and very hard-working. Most comedians try to get by with only one or the other. As shown in an early 1983 interview, he also showed his high standards for where to point his energy.
Judd: And what kind of vehicles are you looking for?

Jerry: Quality. That's my only real consideration. It could be anything, as long as the people are trying to do something good. I don't want to do a piece of junk. I'm not starving, you know.
This was before the TV show Seinfeld, which started in 1989, so he wasn't rich or famous yet. Yet he was already using the word quality. In a later interview, he reveals that the reason he ended the show was also quality. He couldn't keep on going without compromising the quality, so he ended it.
In a 1984 interview, Garry Shandling laid out every single thing he intended to do the rest of his career. Looking back today, Apatow realized that Garry Shandling went on to accomplish everything he said he would. Apatow:
The lesson here, for me, was that you have to have a dream before you can execute it. That the people who succeed are the ones who think through what the next stages of their careers might be, and then work incredibly hard, day after day, to attain their goals. They don't just flop around like fish. They have a vision, and they work their asses off to make it a reality.
Jay Leno is another example of a comedian known as a hard worker. It's hard to appreciate how difficult it is to produce good material. Here I will paraphrase Leno from a 1984 interview:
To find the really good jokes, you have to go somewhere awful and if they laugh there, then they will laugh when you use them on Dave Letterman. You just get better the more you do. Throw out what doesn't work, and keep refining what does work.
Motivation, keeping the spark, and being true to yourself. In a 2014 interview with Jerry Seinfeld, they landed on the topic of motivation.
Judd Apatow: "I wanted to be a comedian and I wanted to work from a very young age because I was afraid of being broke."

Jerry Seinfeld on his motivation: "To never have to do anything else. I learned very young in this business that you bust your ass or you get thrown out of the kingdom. My motivation was not wanting to leave the kingdom. Plus, I just love the life of it. I love my independence and the joy of hearing laughs and making jokes. It's as simple as that."
Again, paraphrasing Jay Leno:
It's a job, but you should have fun doing it. If you can't get up for it, then get out of the business. It [Comedy] doesn't get boring for me. I really like it.
From a 2013 interview with Eddie Vedder:
I just try to always remember where that initial spark came from. It's like a pilot light, and you try to make sure it doesn't go out.
Even Judd Apatow recently went back and started doing stand-up just for fun. He doesn't have to. He doesn't do it for money, he doesn't do it with a career goal, he just does it because he wants to. He wants to get good at something that he loves, something that he was only okay at before. He calls it "unfinished business".
Here's an excerpt from a 2015 interview with Jimmy Fallon about the early stages of his show:
We just went in knowing that we might get canceled. And if you're going down, you have to go down going what you like doing and what's fun for you, because I don't ever want to do something painful and then have everyone go, "Hey, that works. Keep doing that painful thing for years."
How many of us went down exactly down that route, or at least could have? "I'm reasonably good at this, even though I don't like it much, but it pays the bills so I guess I'll have to do it forever…"
Low overhead. Here's Sarah Silverman (2014):
I've always kept my overhead low so I could do whatever I want. I think of myself as lazy with spurts of getting a lot done. I find myself rooting against things sometimes because I get excited at the thought of a clean slate. I also really like sleeping. My friends make fun of me because, you know, I love hanging out but I always hit a point in the night where I just want to get home and sleep. I have a very active dream life and I have to be there a lot.
This last bit wasn't in the book, but Jay Leno never spent any of the paychecks he received from hosting The Tonight Show. He only spent the money from his other jobs – stand-up comedy, paid personal appearances, and endorsement deals. His philosophy was Bank one paycheck, Spend one paycheck. From USA Today:
I had two jobs as a kid, one at a fast-food restaurant and one at a Ford dealership. And I'd put the money from one job in one pocket and spend it. And the other paycheck I'd save. I do that now. I have always banked my Tonight Show money and lived off the stand-up. I have one credit card, no mortgage, and I don't lease.