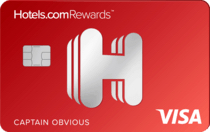 The Hotels.com Rewards Visa credit card is a no-annual-fee travel rewards credit card for folks who don't have loyalty to a specific hotel chain. Instead, you earn free nights from the Hotels.com loyalty program (detail below). Right now, they are running a limited-time offer for new cardholders – 2 free rewards nights worth $250 total ($125 max value each). Here are the highlights:
Limited Time Offer: Get 2 reward nights worth $250 total (max $125 per night)*, when you spend $1,000 on purchases in the first 3 months. *Excludes taxes and fees. If a night costs less than $125, you won't get the difference.
Collect 1 stamp each time you spend $500 on purchases with your card. You also get 1 stamp for every night you stay at any eligible property booked on Hotels.com. When you collect 10 stamps, you'll get 1 reward night to redeem on future bookings through Hotels.com. Choose from over 500,000 properties in 200+ countries around the world.
Free Hotels.com Reward Silver tier status for the first 12 months, including perks such as free breakfast, airport transfers, free WiFi and more at select properties.
Pay your monthly cell phone bill with your card and get up to $600 protection against damage or theft (subject to a $25 deductible).
No annual fee.
Bonus Rewards Nights details. The redemption value of each bonus reward night as part of this sign-up bonus is limited to $125 per night. If the night costs less than $125, you don't get any refund. If the night costs more than $125, you just pay any difference. Note the following fine print about how it doesn't cover taxes and fees. The limited-time offer is for 2 free nights, but the standard offer is only 1 free night.
If you choose a reward night room, apartment, or other equivalent accommodation that costs more than $125, you pay the difference and you are responsible for taxes, fees, and other charges. If you choose a room, apartment, or other equivalent accommodation that costs less than $125, the redemption value of the bonus reward night is limited to the cost of the accommodation before taxes, fees, and other charges. You cannot combine the bonus rewards nights' values or apply the difference to any other reward night. There will be no cash refunds for any residual amounts.
Hotels.com Rewards program overview. This hotel program tries to make it more straightforward to get a free hotel night. Each night you book through Hotels.com at an eligible property, you get a "stamp". Collect 10 stamps and you get a free night. The value of that reward night is based on the average cost of the nights you booked. So if you booked all $100 per night hotels, then the free night would be worth $100. If you booked all $500 per night hotels, then the free night would be worth $500. Fair enough.
The rewards from this credit card are meant to mix in seamlessly with your paid hotel nights. Every $500 you spend on this card, you will get another "stamp", as if you stayed a night at a $110 per night hotel. So if you charged $5,000 on this card over time, via credit card spending alone you would have collected 10 stamps at $110/night and earned a free Reward Night worth $110. That works out to 2.2% back on purchases (110 divided by 5,000) when redeemed for a hotel night reward at full value or higher (just pay any difference).
The stamps also help you get "VIP status" with Hotels.com. Their Silver tier is free for the first year with this card, but otherwise requires 10 stamps in a year and includes perks like price matching, free breakfast, and free Wi-Fi at participating VIP Access properties. Their Gold tier requires 30 stamps in a year and includes free room upgrades at VIP Access properties.
Pros: Hotel room flexibility and no annual fee. An important factor is that this free night applies at at any of 500,000 hotel rooms worldwide, not just restricted to a specific chain and whatever inventory they decide to release. As long as there is a hotel room that is being sold for $110 and you have a $110 Reward night, you can book it, even if it is not a "standard room". This card also has no annual fee. Wells Fargo is the issuer, which may make it easier to qualify for if you already have cards from the other major issuers like Chase and American Express.
Cons: Not enough premium over cash. Even though this card offers the equivalent of 2.2% back in value towards a very flexible hotel room, it is still not as easy to redeem as cash back. So you have to compare with straightforward 2% cash back, or possibly getting better than 2.2% value from a specific co-branded hotel credit cards like Hyatt or Hilton. If I was already a Hotels.com Rewards program user, then I might take the 2.2% value as it is even better than a 2% cash back card. If I was a Hyatt loyalist or didn't stay at hotels frequently, then it wouldn't be worth the added complications. When you book a hotel through Hotels.com (or similar site like Priceline or Expedia), you don't earn chain-specific loyalty points on the stay.
Bottom line. The Hotels.com Rewards Visa credit card is a great fit if you already use the Hotels.com Rewards program instead of being loyal to a specific chain. You can earn 1 stamp per $500 spent on the card, which will help you get free hotel nights at a solid rate (2.2% value back) and also help you reach the next tier of VIP Rewards status. The limited-time sign-up bonus of 2 free nights worth up to $250 value is relatively strong for a card with no annual fee.