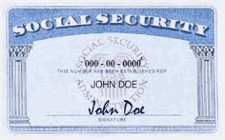 An important lever in building your retirement income is timing when you start claiming your Social Security benefits. While you can start as early as age 62, your monthly benefit increases each year that you delay claiming (up until age 70). For example, here is what my payout would be at various claiming ages if I stopped working today*:

By forgoing the potential income during those initial years, I can "buy" a larger Social Security benefit for the rest of my life – essentially an inflation-adjusted lifetime annuity that happens to be backed the US government, as opposed to an insurance company that has a small-but-nonzero chance of failure. There is a big different between $100 a month and $100 month always adjusted for CPI inflation for the next 30 to 40 years. From this WSJ article:
"The very best annuity you can buy is to delay Social Security," says Steve Vernon, an actuary who is a consulting research scholar at the Stanford Center on Longevity. Mr. Vernon, 67 years old, is himself working part time so he can delay claiming Social Security until age 70.
Did you know that there are now zero insurance companies that sell new annuities that pay lifetime income linked to inflation (CPI)? You can find some with fixed annual increases, but none will guarantee the increases to track inflation. Not a single for-profit company wants to take on the risk of future inflation. Think about that.
For a long time, the most common age of claiming was age 62, as soon as possible. However, this chart from the Center for Retirement Research at Boston College shows that the current trend is that fewer and fewer people are doing that, especially in the last 10 years (hat tip Abnormal Returns). The curve tracks the percentage of people turning 62 that start claim age 62. (This is different than percentage of all claimants, because there is a growing number of 62-year-olds overall.)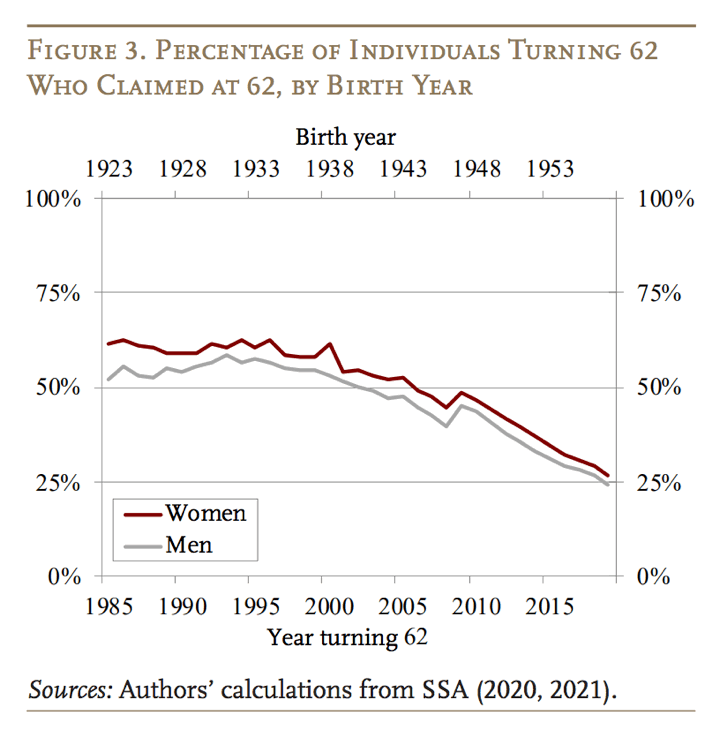 I haven't found any official surveys about the reason for this trend, but here are some possibilities:
Fewer people "need" Social Security income right away, because they are healthier and/or able to find work for longer.
The stock market has been going up pretty consistently over the last 10 years, so fewer people need the income to start right away.
Fewer people "want" Social Security right away, because they expect to live longer or have been educated about the potential benefits of delayed claiming. They want the higher paycheck and are willing to wait.
There are definitely more free tools out there to help you make this decision. My payout chart above was based on mySocialSecurity.gov and SSA.tools and other free calculator is OpenSocialSecurity.com. OpenSocialSecurity actually told me that the optimal choice was for one of us to claim at 62 and the other to wait until 70, so early claiming isn't always a bad thing.
* Wait, I'm less than 20 years from being able to claim Social Security?! 😱