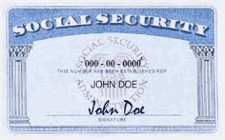 There are some (mostly young) skeptics, but Social Security should remain a major pillar of your future retirement income. For over 60% of current retirees aged 65+, Social Security makes up the majority of their income. Therefore, it may be worth spending some extra time figuring out how it works.
First, you should sign up for a mySocialSecurity account at SSA.gov. For many people, this is the only way to view your current benefit eligibility as they are phasing out those annual green paper statements. You will find some interesting information including eligible earnings history. (For example, I earned $1,814 in the summer after high school.) Also, if you claim your account first, it prevents an potential identity thief from opening an account in your name and stealing your benefits.
Second, you can check out this unofficial Social Security helper tool to test out different scenarios. Created by an Google engineer named Greg Grothaus in his spare time, the site takes your earnings history and uses Javascript to analyze it within your browser. No data is submitted over the internet. Found via The Finance Buff.
Here are some scenarios you might test out:
What happens to my benefit if I earn additional wages for several more years? What if I stop working forever?
How does my benefit change as my total earnings grow during my lifetime?
What happens if I choose to take my benefits early? What if I delay and take them late?
You might not know that your eventual benefit is based on your top 35 annual indexed earnings values. Indexed earnings are simply the payroll wages you earned in a year multiplied by a number that adjusts for wage growth. I personally don't even have 35 working years yet, so every additional year I work will be in my "Top35" and increase my future payout. Here are some charts based on my earnings history:
If I stop working immediately and then start taking benefits at my "normal" retirement age of 67 years, I will earn $1,666 per month ($19,992 per year). If I start taking money at age 62, I will earned a reduced $1,166 per month ($13,994 per year). Here's the full chart: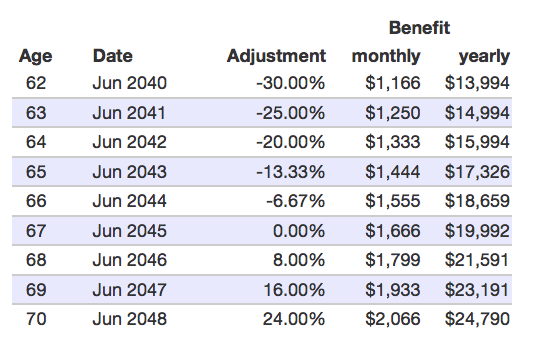 If I keep working for another 20 years at $50,000 per year, then my age 67 benefit will increase to $2,328 per month ($27,936 per year). If I start taking money at age 62, I will earned a reduced $1,630 per month ($19,555 per year). Here's the updated full chart: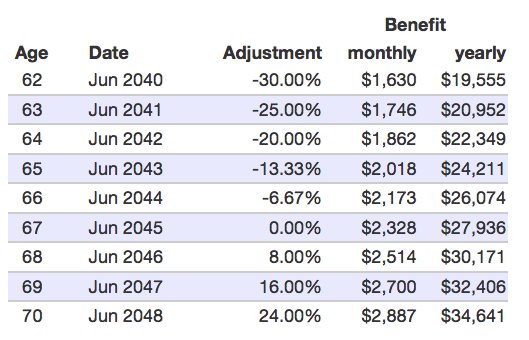 Working/waiting an extra year may increase your payout enough to change your lifestyle significantly. An extra $100 per month may not seem that much, but that's an extra $1,200 each year for the rest of your life that increases with inflation. If you don't have adequate income from other sources, that could cover your medication copays for the year. It could be the difference between staying home and doing a video chat vs. flying and playing with your grandkids in person each year.
If you are on the early retirement track, that inserts a bunch of zeros in your "Top 35". With this calculator, you can see how much that actually changes your eventual payout. Even if I continued to work another 25 years at $100,000 per year, my annual benefit at age 67 would be about $33,000 per year.
As a reminder, both SSA.gov and this tool only show you what your benefit will be under current law. Social Security isn't a savings plan – current retirees are being paid from money taken from current workers. This means that changing demographics will require some sort of modification by 2035. From the Chief Actuary of the Social Security Administration:
Currently, the Social Security Board of Trustees projects program cost to rise by 2035 so that taxes will be enough to pay for only 75 percent of scheduled benefits. This increase in cost results from population aging, not because we are living longer, but because birth rates dropped from three to two children per woman. Importantly, this shortfall is basically stable after 2035; adjustments to taxes or benefits that offset the effects of the lower birth rate may restore solvency for the Social Security program on a sustainable basis for the foreseeable future.