We're still casually browsing for houses long-distance, and have been using many online tools to help gauge the market. At the house value site Cyberhomes.com, we also found that it offered a lot of good statistics at the local level. This is probably available elsewhere too, but it's presented very clearly here. They offer charts such as:
By Zip Code – Average sales price over time, Sales price vs. living area, Sales count by price range
By Market – Average price over time, Sales volume over time, Sales price per square foot
Market Fundamentals – Median sales price, Unemployment rate , Housing permits, Buy/sell indicators
Market Heat Maps – View geographical variations in housing price, house price changes, and housing density on a color-coded heat maps
Just type in an address, click on View Details, and scroll down to the Charts & Graphs section. You can even zoom in on a specific time range. Here are four sample charts for my old house in Portland, Oregon: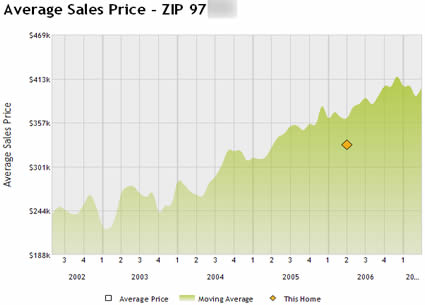 Up, up, and away! A little stalling recently, though…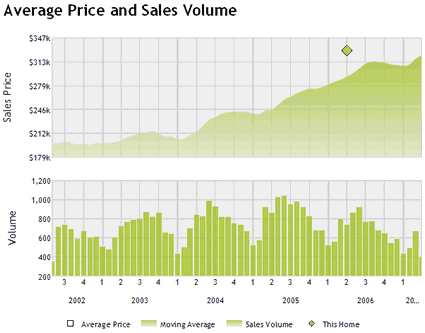 Notice the appreciable drops in volume during the winter months, along with slight dips in price as well.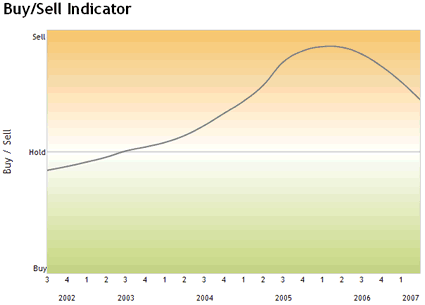 Per the site, the chart above shows the relative degree to which the market this property is located in is a ?buyer?s market? or a ?seller?s market.? What does that even mean? I'm guessing this is based on how many months of housing inventory are currently for sale.
Home Value Heat Map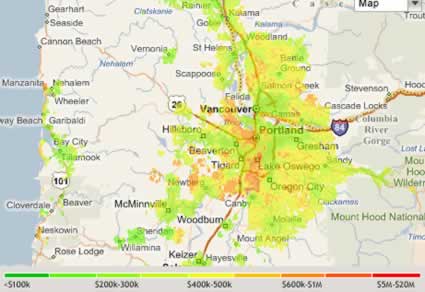 This is just kind of neat because you can see where the more expensive neighborhoods are, like downtown Portland and Lake Oswego. The price-change heat map wasn't very helpful, as the map was so noisy that you couldn't really determine any trends.