Enough with the fluffy stuff, how about some firm numbers. Imagine that a young college grad actually has the forethought to even think about what they need for retirement. They check out an online retirement calculator, and see their needed amount is… 5.7 bajillion dollars!1 Shocked, they shake their head, walk away, and promise themselves to revisit it again in a few years… hopefully.
A more attainable goal: You should aim to accumulate double your salary by age 40. Doesn't that sound more reasonable? This is the solution proposed by this Wall Street Journal article A $1 Million Retirement Fund: How to Get There From Here. (Thanks Don for the tip.) Why double?
Let's say your salary has hit that $80,000, you have amassed $160,000 in savings, you are socking away 12% of your pretax income each month and your investments earn 6% a year. Over the next 12 months, your $160,000 portfolio would balloon to $179,518, or $19,518 more. Your monthly savings would account for $9,600 of that growth. But the other $9,918 would come from investment gains.

In other words, you've got to the crossover point, where the biggest driver of your portfolio's growth is now investment earnings, not the actual dollars you're socking away.
My only beef is that the math in the article is a bit vague. First, the article means double your expected salary at age 40, by age 40. Now, is the 6% assumed return supposed to be real or nominal? Are we assuming this is all in a 401(k)? How much inflation-adjusted money will this give you at age 65?
However, the main points remain. Money saved now will be worth a lot more than money saved later. Once you generate a "critical mass" in your retirement funds, they really do seem to gain a life of their own.
The graph on the right shows three investors, each of whom invests just $1,000 a year until age 65. However, one begins at age 25, investing a total of $40,000; one at age 35, investing a total of $30,000;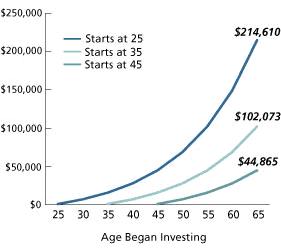 and one at age 45, investing a total of $20,000. Each earns 7 percent per year and, for purposes of this illustration, the effects of taxes and inflation are ignored.
The result? The early bird ends up with more than double the one who waits until age 35 and more than four times the one who waits until age 45.2
I've certainly experienced this. As our own retirement balances have grown, the recent stock gains alone are often thousands of dollars each month. So what are you waiting for? Get started with just $50 per month!
1 Actually if you plugged in 21 years old and $40,000, the goal would be $2,591,000. Still big!
2 Source: Investment Company Institute