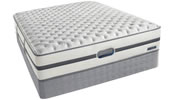 Shopping for a new mattress bed is confusing and annoying. Sadly, that's exactly how it was designed to be. This Slate article talks about this maddening process and offers a few tips:
Mattress makers intentionally hinder comparison shopping by selling the exact same product with unique names for each individual store.
Higher coil counts are not a good indicator of quality. More coils may simply use thinner gauge metal wire.
Pillowtop foam materials are cheap and a huge source of profit. Mattress thickness is thus also not a good indicator of quality.
There is no evidence that box springs are necessary or even helpful, other than to raise the height.
Firmer is not always better for your back. You just don't want it too soft or too firm. Each person needs to find their own optimal firmness level.
Also see: Consumer Reports
Our Mattress Shopping Experience
The last time we did frugal mattress shopping was 7 years ago. We ended up with a Simmons Beautyrest mattress from a Simmons World of Sleep mattress outlet. It was a mid-tier mattress with a super-thick pillow top layer and cost $700 while comparable mattresses were $1,500 and up. It was so high that we had trouble finding sheets big enough to fit it. (We were trying to replicate the Westin Hotel Heavenly Bed.) We liked that mattress a lot, but we decided to move it into the guest bedroom. Unfortunately, it appears that there are now only three such outlets remaining in the entire US – Atlanta, Dallas, and Seneca, SC.
We tried to buy a comparable Simmons mattress, but after visiting a few local showrooms I was so annoyed at the obfuscation and overall skeeziness that I just went to our local Costco and bought the only flavor available. The Sealy Posturepedic Newfield Cushion Firm Cal King set with two twin box springs cost $900. Not a bad price, but after just a week my back was hurting and the bed felt like it was sagging in the middle. We returned it to Costco and got our money back (though it took some effort to secure it on the top of my car). This route may work for some people, but the mattress was not for us.
I decided to go back to a Simmons mattress and looked into buying online. Check out this comparison chart from US-Mattress.com:

I am supposed to accept that they control the expected durable lifetime that finely between 11 and 17 years? "This mattress will last 13 years, but this will last 14 years". Please. Even if they could, why would they bother with the extra engineering and assembly line tweaks involved. I bet the $700 mattress is exactly the same inside as the $1,150 mattress (both with 800 coil count, pocketed coils, edge foam encasement, blah blah blah). I considered just buying the $700 mattress ($879 for Cal King). My sister actually bought a mattress from US Mattress earlier in the year and was satisfied with the experience.
However, I ended up shopping locally at yet another "sale" and found what appeared to be a very similar Simmons Beautyrest Firm mattress for also around $850 for a Cal King. That way I was able to at least lie down on it and compare with others. We had a wooden mattress platform so we didn't need a box spring and saved a few more bucks.
The final touch? We bought the NovaForm® 3″ Pure Comfort Memory Foam Mattress Topper for about $150. The reviews seem positive overall and after sleeping on it for a while we found it to be very comfortable. There was a little plasticky odor in the beginning but it disappeared quickly. The only real quibble is that it tends to shift on top of the bed and so you have to reposition it every so often. I've thought about spraying the bottom with hair spray or some sort of tacky adhesive to solve that problem. Otherwise, we like it even more than our previous mattress.
In the end, I like the idea of buying a firm mattress (the "bones") separately from the padding material (a replaceable "skin"). Our 11″ firm mattress + 3″ memory foam topper meant a 14″ total height. Buying a 14″ pillowtop "luxury" mattress would have cost between $300 and $1,000 more and I doubt that we would be able to tell the difference.