First, I just want to say thanks for all the great and helpful comments on my post on trying to find a new mattress. I read every single comment, used many of them, and have purchased a new mattress! But before going into that I wanted to do a quick summary of all the tips.
Don't go cheap. But don't overpay, either.
Most readers, my friends, and even our parents told us not to go cheap on a mattress. People say you spend a third of your life on this thing. I agree that you shouldn't buy solely based on price. But as you'll see below, buying a mattress is intentionally confusing for the consumer, and the price on the exact same quality mattress can vary literally by a thousand dollars! So I respectfully disagree with "you get what you pay for". Being frugal isn't the same as being cheap! It's shopping smart.
Go out to some stores and try them out.
Another good piece of advice that I got was to go out to the stores and try them all out. As reader and former mattress salesman Tim F suggests, you should wear some comfortable clothes (no skirts for women!) and spend at least 5 minutes laying on each bed exactly as you would normally sleep. You're dropping a grand on something that's supposed to last 10 years, so take your time and don't let anyone rush you.
The exact same mattress can have 50 different names…
Chesterfield? Summerbrooke? Belmont? While looking at traditional coil mattresses, every single store had a different British name for what looked like the exact same bed. This is on purpose. From MattressHotline:
Why does each retailer have a different name for the same product?
This gives each retailer the opportunity to set their own unique price points and also give the perception of exclusivity.
Translation: We have huge profit margins, and we don't want to enable you to easily comparison shop.
Check out this huge list of equivalent names just for the Simmons brand alone. I mean, I've heard of rebadging products, but a separate name for every store? Some brands attempt to justify this by using slightly different fabrics or designs that cover the identical mattresses. If you can figure out the name game, they also have comfort and durability guides that may be useful. (Thanks to reader John Tarnok.)
As for memory foam beds, I'm sure it's equally hard to compare across brands. A salesperson said that Tempurpedic has a patent on their specific type of foam, so no other brand would be able to exactly offer the same product. My feeling is that as time goes by the copycats will catch up soon enough.
…so everyone can offer low-price guarantees.
You may have noticed that every single mattress store guarantees the lowest price. These names are why!! It gives them complete discretion. If they are willing to match your price, then they'll give you an "equivalent" mattress (be careful that it is indeed equivalent). If they aren't willing to go that low, they can simply say that it's not the same mattress.
Our Experience – Trying to create our own Heavenly Bed
Like many people, we stayed at a Westin hotel (thanks to the Starwood American Express card) and we really liked their Heavenly Bed. In fact, you can buy the mattress and linens directly from them or also at Nordstrom's. A queen mattress set with no linens is $1450 (including shipping). Recently there was even a 40% off coupon which someone was nice enough to e-mail me, but it's now expired. So we had to create our own!

After some research, I found that it's not that hard to do so. The Heavenly Bed is a Simmons Beautyrest mattress. The Beautyrest line has three tiers – from lowest to highest: Classic, WorldClass, and Exceptionale. (Some places replace the Exceptionale with Beautyrest Black.) These are clearly labeled at the foot of each mattress regardless of funky name, so it's easy to see what tier you are in. From what I have gathered, the Heavenly Bed is somewhere in between the Classic and WorldClass tier, and is what is termed a "Super Pillowtop", basically a thick pillowtop.
At the retail stores, the "sale" price for a WorldClass queen set was $2,000. After some brief haggling they went down to about $1,500 if we agreed to a generic box spring. Walmart has a Simmons WorldClass Pillowtop (exact details unknown) for $1,250. But then I discovered the never-advertised Simmons Outlet which sells "discontinued models and overstock items directly to the public." If you go on the website, you can even find an additional 10% off coupon. Downsides include having limited locations and all sales are final, although you still get the 10-year warranty.
Luckily, there was an outlet only 10 minutes from my house. There is no fancy showroom since its essentially a warehouse, so you should arrive with a specific bed in mind. The first time I went there, they didn't have any Simmons pillowtops left at all. They said they pretty much only get a few every week, and they sell like hotcakes. But I kept calling and found a Simmons WorldClass Super Pillowtop Latex mattress with matching Triton foundation for $700. (Simmons Classic version was $500.) After 10% off and $50 for shipping (you can pick up), the total price was only $680. For reference, it is pretty much identical to this $2,000 mattress advertised online. I tried to pricematch this rock-bottom price with other stores, but they refused, so I just bought from the outlet. I've slept on it for a couple days now and am very happy with my purchase!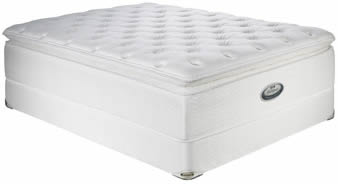 Of course, it's not just the mattress that makes the Heavenly Bed. You also need a good down comforter – we already have one, and we love it. All that's left is to go out now and find some quality sheets and pillows to complete the feel. I hear Overstock.com and Amazon.com both occasionally have some really good deals. Threadcounts, Egyptian cottons, Pima cottons, yet another mess to wade through…