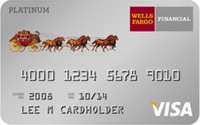 This post provides updated information and instructions regarding the free FICO score that is available to Well Fargo credit card holders and select loan borrowers. Accessing your own FICO Score will not impact your credit score.
Background. Wells Fargo started rolling out free FICO scores to select credit cardholders and certain loan borrowers in early 2016, with a stated plan of increased rollout throughout the rest of 2016.
FICO Score details.
FICO Score version: FICO Bankcard Score 2. This is one of the older FICO score models with score range 250-900 amongst the many FICO flavors. Score version is taken from app screenshot.
Credit bureau: Experian
Update frequency: Monthly (Approximate)
Limitations: Available only to affiliated Wells Fargo customers. As of May 2016, customers with credit cards, student loans, direct auto loans, and personal loans are eligible. Home mortgage and Home Equity Line of Credit customers are "coming soon". As of May 2016, only available in their smartphone and tablet apps. Desktop access to come later in 2016.
How to find the score. As of May 2016, access to the free FICO score is only available via their Wells Fargo smartphone and tablet apps. Desktop access will arrive later. You can find the mobile app download links here. If you already have it, double-check that your app version is the most up-to-date version.
After installation, sign on to your Wells Fargo account. Go to your Account Summary. Select "View Your FICO® Credit Score" and opt in. Here are some screenshots from the app (credit to j615 of myFICO forums, click to enlarge):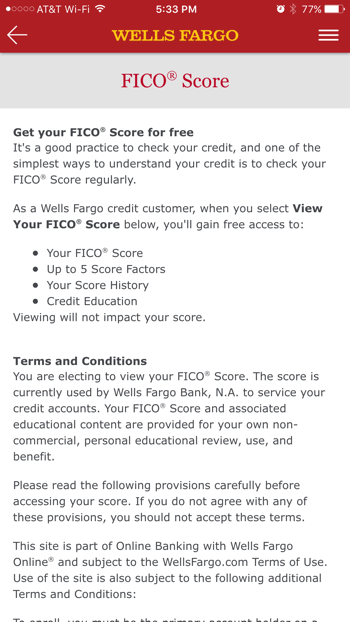 If you do not see the "View Your FICO® Credit Score" button, either update your app or check your eligibility again. You must be the primary cardholder; authorized users are not eligible.
Bottom line. If you are already a Wells Fargo customer, they already have most of your personal information, so I see little reason not to take advantage of this free FICO score offer based on your Experian database. I would take note that this is not the more common FICO 08 Classic score model with score range of 300 to 850.
Here is additional information about other major credit card issuers with free FICO programs:
Free FICO Score For Everyone via CreditScoreCard, No Credit Card Required