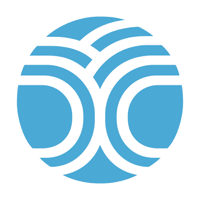 Updated May 2016. WiseBanyan has made some changes to their product. The highlights:
New logo, mobile-responsive site design, and smartphone apps.
Tax-loss harvesting now available as paid feature. WiseHarvesting is their first premium add-on feature, running 0.25% of assets annually with a $20/month cap.
Now accepting IRA, Roth IRA, and 401(k) rollovers.
Free financial planning software called Milestones. More thoughts below.
WiseBanyan is an online portfolio advisory service similar to better-known competitors like Betterment and Wealthfront. Differentiating feature: WiseBanyan charges no advisory fees, no trading commissions, and no minimum opening deposit. They will design, buy, hold, and rebalance a basket of low-cost ETFs for free, and all you are left with are the ETF expense ratios which you'd have to pay anyway if you DIY'ed.
Thanks in part to your interest as readers, I was able to get off their waitlist and open an account with $10,000 of my own money back in March 2014. As of May 2016, there is currently no longer a waitlist. Here is my review as an actual user for roughly a year; I have since liquidated my holdings in all robo-advisor platforms.
Application process. The account opening process was similar to other discount brokers and online portfolio managers. You must provide your personal information including Social Security number, net worth, income, investing experience, etc. No credit check. They do check identity, so they may ask for supporting documents if you just moved or something.
There is then a risk questionnaire. The questions can seem mundane but take it seriously, as the 10 answers you provide will directly determine the portfolio asset allocation that they choose for you. There will be no follow-up surveys, e-mails, or phone calls. Here is a screenshot and example question (old interface):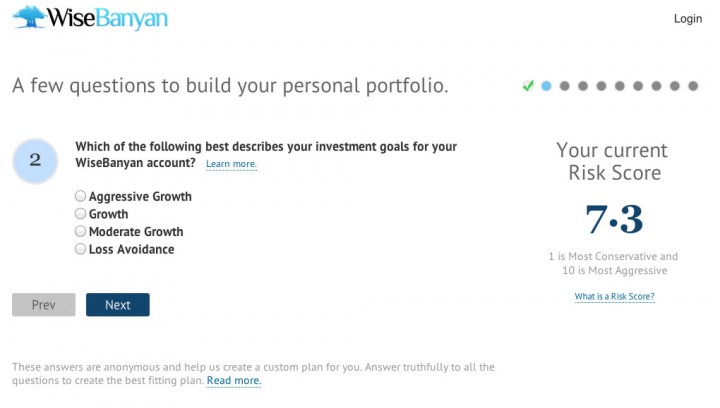 Funding. You can fund your deposit electronically, using your bank routing and account number. (They only accept bank wires as an alternative, no paper checks.) The money gets sucked from your bank and the portfolio is bought immediately when they get the money.
Fractional shares. WiseBanyan uses FolioFN as their broker-dealer (separate company that hold your assets in the background) which means they can use their ability to keep track of fractional shares. Most discount brokers and other online portfolio managers require you to own whole shares, so you'll often have something like $57 sitting in cash.
Recall that WiseBanyan has no required minimum deposit or portfolio balance. If you really did open account with $100, they will actually buy less than one share of several low-cost diversified ETFs and you'll own tiny, tiny portions of thousands of companies with no idle cash. With a normal discount brokerage, that might not even buy you one share of anything (VTI is over $100 a share on its own).
Portfolio asset allocation. I was assigned a portfolio risk score of 7.7, which corresponded to a stocks/bond ratio of 70%/30%. Screenshot from the old interface:

Here is the target asset allocation that I was assigned:

My portfolio was constructed using the following seven ETFs:
Vanguard Total Stock Market ETF (VTI)
Vanguard FTSE Developed Markets ETF (VEA)
Vanguard FTSE Emerging Markets ETF (VWO)
iShares iBoxx $ Investment Grade Corporate Bond ETF (LQD)
Vanguard Intermediate-Term Government Bond ETF (VGIT)
Vanguard REIT ETF (VNQ)
iShares TIPS Bond ETF (TIP)
My general opinion is that the ETF allocations from all "robo-advisors" are at least 80% the same, and with the remaining 20% you can't really tell who's going to win performance-wise anyway. They are all backtested using some form of Mean-Variance Optimization (MVO) and Modern Portfolio Theory (MPT).
While not exactly what I would have chosen for myself, I personally think the portfolios they create are fine. The ETFs have low costs and come from large, respected providers in Vanguard and iShares. All of the major asset classes are covered. There are no commodities futures or natural resource ETFs, which some experts think are useful and other experts think are useless. Note that REITs are considered to be in the bond category.
Website user interface and smartphone apps. The interface has been updated to essentially look like everyone else. It is simple, clean, and mobile-responsive. I like it. There are also companion iOS and Android apps. User reviews for both apps are overall positive. Screenshot from new interface: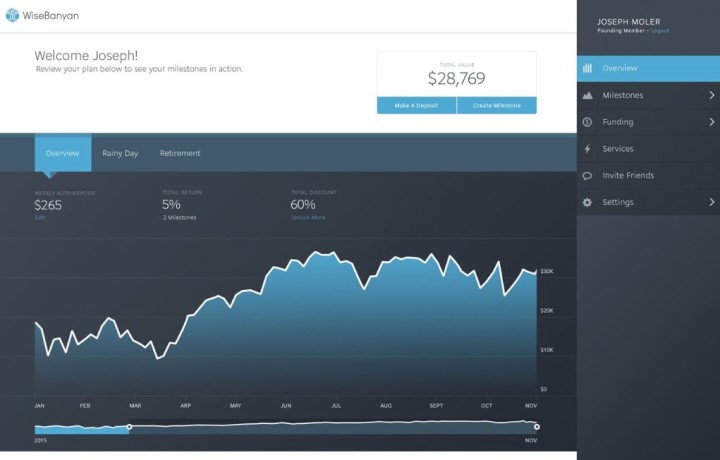 Statements and ongoing communication. Electronic statements are free, but paper statements will cost $5 each and paper trade confirmations $2 each.
New Milestones feature. WiseBanyan has a new service called Milestones which helps you direct your investments into specific goals like retirement, emergency funds, college, or vacations. Works in desktop and mobile. You can give a target number and timeframe, and it will recommend a portfolio and a monthly savings amount that theoretically should reach your goal. It will initiate recurring deposits so that things are automated. While I think such basic guidance can be helpful to get you a ballpark figure, I would also be careful on relying too closely on the forecasts as nobody really knows what the stock or bond market will return in the short-term. Screenshot from new interface: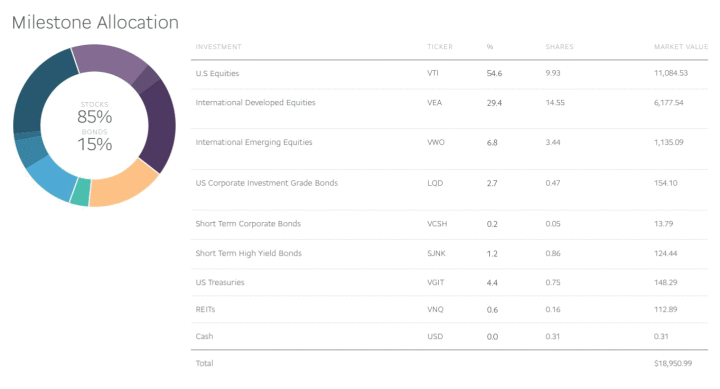 Free is nice, but how will they make money? Future concerns? According to various sources, the demographics of the average WiseBanyan client is both younger and of more modest means (opening balances under $10,000) than their competitors. They plan on offsetting the costs of maintaining free accounts with their premium add-on features, but will it work? Will enough people pay up for tax-loss harvesting? It remains to be seen if the "Freemium" model can work in this environment.
Bottom line. WiseBanyan is fully functional and delivers on its promise of free automated portfolio management. I joined them in early 2014 when they were still working out some minor kinks, but two years later they are offering a much more polished product. I would even say that their aggressive pricing has helped "nudge" many of their competitors to lower their starting minimums as well.
The main thing that would worry me is that their path to sustainable profitability is not clear. If WiseBanyan is eventually taken over in the event of a merger or takeover, a new owner may charger much higher fees. If you leave for another robo-advisor, there may also be tax consequences. On the positive side, WiseBanyan is not affiliated with any ETF sponsor and can thus invest in the "best-in-class" ETFs without conflict of interest. In the current group of robo-advisors, I would classify them as plucky underdogs.
I wouldn't let a small sign-up incentive convince you to choose one robo-advisor over another, but new users can get a $20 bonus if they open an account with my referral link. Thanks if you use it.