I written about Dimensional Fund Advisors (DFA), a mutual fund family that is powered by top academic research. Another things that makes DFA unique is that they are only sold through approved financial advisors. You can't buy them with just any old brokerage account. (Exceptions are certain 401(k)-style retirement plans and 529 college savings plans.) Allan Roth has new article about DFA funds in Financial Planning magazine, which is a trade publication targeted to financial professionals.
Why not sell directly to Average Joe investor? Here is David Butler, head of DFA Global Financial Advisor Services:
DFA has no intention of bypassing the advisor channel and offering its funds directly to retail investors. "We think advisors help keep investors disciplined," Butler says.
In my previous post The True Value of a Real, Human Financial Advisor, I wrote about this concept. A good client advisor will help you keep your cool when the next disaster comes. Vanguard says that the biggest "value add" from good advisors is their "behavioral coaching". A good financial advisor keeps you from making the "Big Mistake" that derails your plans.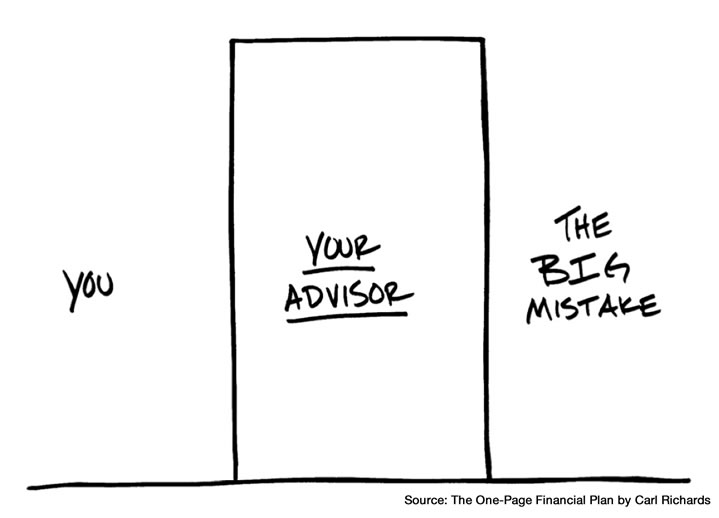 But later in the same Allan Roth article, the idea of advisors as disciplinarians is called into question.
But do investors get better returns? I tested Butler's claim that DFA advisors help keep investors disciplined by asking Morningstar to compare the performance gap between the two fund families. The performance gap is the difference between investor returns (dollar weighted) and fund returns (geometric).

Over the 10 years ending Dec. 31, 2014, the DFA annualized performance gap stood at 1.28% versus only 0.22% for Vanguard. When I showed these figures to Butler, he responded, "It's hard to make an argument about the discipline of advisors based on these figures."
Here's a primer on investor returns vs. fund returns. Investor returns are the actual returns earned by investors, based on the timing of their buying and selling activities.
The next step was to compare the investor returns of DFA's largest fund, DFA Emerging Markets Value I Fund (DFEVX) with $14B in assets with the closest Vanguard competitor, Vanguard Emerging Markets Index Fund (VEMAX) with $54B in assets. I personally think a better comparison would be with their DFA Emerging Markets Core Equity I Fund (DFCEX), so I'm throwing that in as well.
DFA fund returns are often higher relative to index fund competitors. Here's a Morningstar chart comparing the growth of $10,000 invested 10 years ago in each of the three funds. You can see the DFA funds do slightly better in terms of fund returns. Click to enlarge.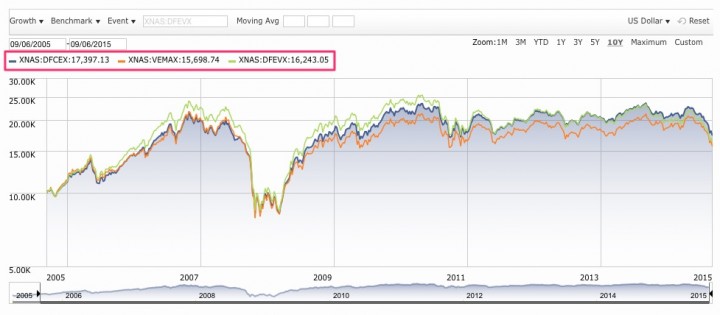 But what about investor returns? I took some screenshots of their respective Morningstar Investor Return pages.



We see that after accounting for the timing of actual cashflows, the average investor in the DFA fund actually lost money with an annualized return of -1.01% and -2.04%! Meanwhile, the average Vanguard investor earned over 6% annualized.
The three mutual funds don't have the exact same investment objective, but they do both all pull from the overall Emerging Markets asset class. The DFA funds try to focus ways to earn greater long-term return by holding stocks with a higher "value" factor, but it also has a higher expense ratio. The Vanguard fund just tries to "buy the haystack" and passively track the entire index.
Let's recap. The stated reason why DFA is only sold through advisors is that they offer more discipline. We are told that such behavioral coaching is where human advisors provide their greatest value. However, the evidence available suggests that DFA advisors are less good at trading discipline than when a similar fund is completely open to retail investors.
I found this rather surprising. I used to think that restricting my potential advisors to those were affiliated with DFA was one way of getting an "above-average" advisor. But after doing my own research, I found that even though DFA investments are generally lower-cost, the additional fees charged by individual advisors ranged widely from reasonable to quite expensive.
I am confident there are financial advisors that can provide the proper behavioral coaching that makes them well worth the cost. At the same time, clearly many are not providing the advertised guidance and discipline. The problem remains – how does Average Joe investor find the good ones? I still know of no clear-cut way.