When you look up the historical performance of mutual funds, you are typically getting what is called a time-weighted return. For example, the 5-year return is what you would have gotten if you bought the fund five years ago and held it continuously until today, all the while reinvesting dividends, with no additional purchases or withdrawals.
But real life is different. People add money in, people take money out. Morningstar calculates an additional metric called Investor Return [pdf], also known as a dollar-weighted return. This measures the returns that investors actually achieved in that fund, based on dollar inflows and outflows. This means that if investors as a whole timed their purchases correctly and bought more shares when the fund was low, then their returns would actually be higher than the time-weighted returns. If instead, investors waited until the fund performed well before buying in, and/or sold their shares only after the price was temporarily lagging, then their dollar-weighted returns would be lower than the time-weighted return.
Russell Kinnell of Morningstar has a revealing article and chart comparing the performance of the average fund with the average investor, broken down by category like US stocks or municipal bonds. This higher-level view is useful because it takes out any noise you might get from just looking at a specific mutual fund. Did the average investor's market timing efforts pay off? Here are the results, broken down into the past 3, 5, and 10-year periods.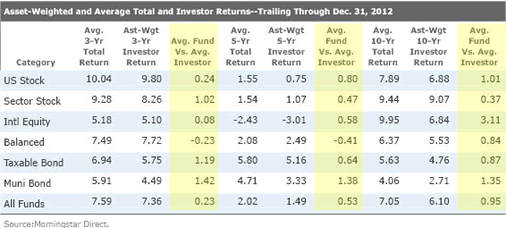 Source: Morningstar
We see that across almost every category and every timeframe, the investor return lags the fund return. That gap also tends to grow over time, with an average underperformance of nearly 1% a year over the last 10 years. That's a lot of money. The S&P 500 is basically back to it's all-time high back in 2007, even though it was a crazy roller coaster in between, and it seems most people didn't time it correctly. It would be wise to remember this consistent underperformance this the next time you think about market timing, or buying something simply because it did well in the recent past.