As a parent of young children, the following chart from this CityLab article definitely caught my attention: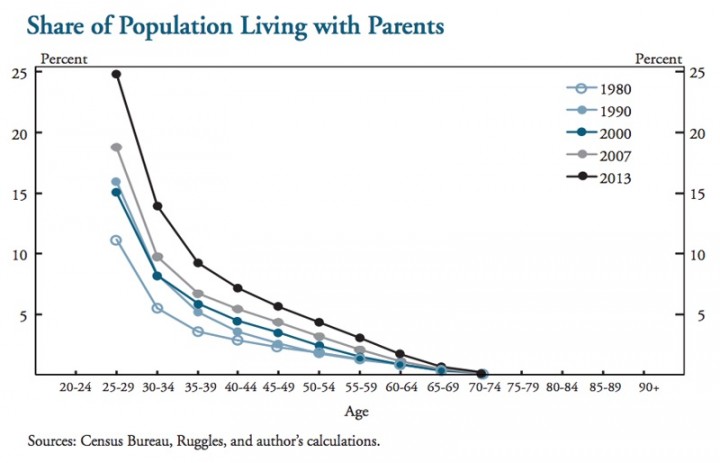 The trend is clear that as time goes on, more and more people are living with their parents. At what point does it start being called living with your children? For the purposes of this chart, is child living with a parent (suggesting parent is head-of-household) different from a parent living with a child (suggesting that child is head-of-household)? I think so. Otherwise, you'd think there would be a bump at ages past 65.
The article speculates the eventual effect on housing:
Jordan Rappaport, a senior economist for the Kansas City Fed, uses these figures to explain the transformation in the multifamily housing market over the past 30 years. Rappaport's paper explains that, in the short term, young adults are driving the market for new multifamily housing construction. Over the long term, however, retiring Baby Boomers will drive multifamily housing construction as they downsize. […]

As Baby Boomers begin to retire and downsize, they will drive the construction of new multifamily housing. What that means, we don't fully know yet. This new construction might not look much like the condos and apartments that developers are building today in order to chase young-adult households. It also might not look like the downsizing options preferred by seniors in the past.
I agree that the overall economic trend is going to be more multi-generational housing. It's just cheaper. Housing costs eat up a huge chunk of income, and sharing housing can reduce overall costs for both parties involved. As quoted in my previous post Economics of Shared Living: Estimated Savings From Having Roommates, Scott Burns notes that "Cooperation is a wonderful but generally overlooked substitute for money."
In places where land is quite expensive like California and Hawaii, "in-law" or "ohana" units are quite popular. The official term is "accessory dwelling unit", or ADU, where separate living quarters are created on what was previously a singly-family home. This could either be a detached studio or the converted wing of the original house with a kitchenette to add privacy and separation. Your parents could live there, or your adult kid could live there, often both.
Often, these are only legal if you have a direct relative living in them. However, new legislation has been introduced in many areas to make these legal rental units. In San Francisco, you can now apply to legalize your un-permited unit. In Honolulu, a bill to legalize ADUs of up to 800 square feet was just signed into law. Basically you can now add a little, legal rental on the side of your house.
I think these shared-but-separate living situations will start popping up more and more in the rest of the United States. Many new home designs now include such units from the very beginning. It is a way of creating more affordable housing for renters and additional income for homeowners.