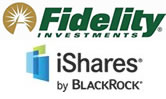 Fidelity recently announced new changes to their commission-free ETF list.
When Blackrock iShares introduced their 10 new Core ETFs, I wondered how they would market these ETFs. Well, that question was answered today with Fidelity and Blackrock announcing a "long-term strategic alliance", otherwise known as Blackrock writes a big fat check to Fidelity:
For iShares ETFs, Fidelity receives compensation from the ETF sponsor and/or its affiliates in connection with an exclusive, long-term marketing program that includes promotion of iShares ETFs and inclusion of iShares funds in certain FBS platforms and investment programs.
The move definitely makes sense though, as Fidelity doesn't have a broad line of in-house ETFs and iShares doesn't have their own brokerage arm. In general, I think the move is a positive one for Fidelity customers as they now have exposure to a much wider range of low-cost index ETFs meant for long-term holding periods. There are now a total of 65 iShares ETFs where you can avoid the standard $7.95 trade commission. You could build a low-cost, diversified portfolio with just these ETFs, resulting in a weighted expense ratio of just 0.10%:
33% Core S&P Total U.S. Stock Market (ITOT)
33% Core MSCI Total International Stock (IXUS)
33% Core Total U.S. Bond Market (AGG)
However, a few big names were also removed from their commission free list – iShares MSCI EAFE (EFA), and iShares MSCI Emerging Markets (EEM), and most of their Russell Index-based ETFs. If you had a large position in one of these ETFs, now you're either stuck paying the standard $7.95 commission or you'd have to replace them with their new "Core" versions and thus incur possible capital gains taxes. I'd certainly be annoyed. There will be a short grace period (details below).
Also, starting 7/31/13 if you don't hold for 30 days then you have to pay $7.95 for the sell trade (buy trade is still free). This shouldn't affect most long-term investors.
A short-term trading fee of $7.95 will be charged for any sales that occur within 30 days of the original purchase of the ETF. This fee is being waived for all customers through July 31, 2013.
Below is a subset of the ETFs which should appeal to long-term investors, sorted by asset class. The Core ETFs are marked with an asterisk*. The complete list is here.
US Equity
Core S&P Total U.S. Stock Market (ITOT)*
Core S&P 500 (IVV)*
Core S&P Mid-Cap (IJH)*
Core S&P Small-Cap (IJR)*
S&P 500 Growth (IVW)
S&P 500 Value (IVE)
S&P Mid Cap 400 Growth (IJK)
S&P Mid Cap 400 Value (IJJ)
S&P Small Cap 600 Growth (IJT)
S&P Small Cap 600 Value (IJS)
Dow Jones International Select Dividend Index (IDV)
Dow Jones Select Dividend Index (DVY)
Dow Jones U.S. Real Estate Index (IYR)
International Equity
Core MSCI Total International Stock (IXUS)*
Core MSCI EAFE (IEFA)*
Core MSCI Emerging Markets (IEMG)*
MSCI Emerging Markets Small-Cap (EEMS)
MSCI Frontier 100 Index (FM)
MSCI ACWI (ACWI)
MSCI EAFE Small-Cap Index (SCZ)
Dow Jones International Select Dividend Index (IDV)
Bonds
Core Long-Term U.S. Bond (ILTB)*
Core Short-Term U.S. Bond (ISTB)*
Core Total U.S. Bond Market (AGG)*
Barclays 0-5 Year TIPS Bond (STIP)
Barclays 1-3 Year Treasury Bond (SHY)
Barclays 20+ Year Treasury Bond (TLT)
Barclays 7-10 Year Treasury Bond (IEF)
Barclays TIPS Bond (TIP)
Barclays U.S. Treasury Bond (GOVT)
iBoxx $ High Yield Corporate Bond (HYG)
iBoxx $ Investment Grade Corporate Bond (LQD)
S&P National AMT-Free Municipal Bond (MUB)
International Inflation-Linked Bond (ITIP)
S&P/Citi International Treasury Bond (IGOV)
*REMOVED*
MSCI EAFE (EFA)
MSCI Emerging Markets (EEM)
MSCI ACWI ex U.S. Index (ACWX)
Russell 1000 Growth (IWF)
Russell 1000 (IWB)
Russell 1000 Value (IWD)
Russell 2000 Growth (IWO)
Russell 2000 (IWM)
Russell 2000 Value (IWN)
Russell 3000 (IWV)
Fidelity is providing a grace period lasting until the end of April during which you can continue to buy and sell any of these ETFs commission-free. A second grace period lasting from May 1 through July 31 will allow you to sell these 10 formerly commission-free ETFs without having to pay a trading commission. During this second grace period, buy orders are subject to a $7.95 commission.