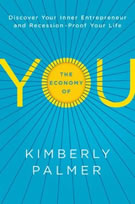 Microbusiness. Nanobusiness. Solopreneur. These new terms were created to describe the one-person businesses which Kim Palmer profiles in the new book The Economy of You: Discover Your Inner Entrepreneur and Recession-Proof Your Life. Some people turn their business into a full-time job, while many keep their 9-5 jobs and run their ventures on the side. Palmer herself is a full-time editor for US News and World Report as well as a "side-gigger", selling virtual financial planners on her Etsy shop Palmer's Planners.
In terms of a synopsis, I would describe the book as breaking up the interviews of a number of solo entrepreneurs into major themes like:
How they discovered their idea or niche
How they built a support network for help
How they earned their first customers and grew from there
How they balanced their new business with a full-time job, family, etc.

Overall, the book is definitely more inspirational examples and idea generation than actual nuts-and-bolts guide on how to run a solo business.

I enjoyed reading it, and here are my own impressions and takeaways from the book. Hopefully they will also help you decide if you should read it.

A true microbusiness just needs one person and hardly any start-up money. This is my own definition, but I think it is appropriate. When I look at the people profiled in the book in addition to of all the business that my friends have started on their own, hardly any of them need more than maybe a few hundred dollars to get started. Website design. Writing a blog. Handcrafted jewelry. High-quality natural soaps. iPhone apps. Selling online coaching and e-books. If you need venture capital, it is not a microbusiness. Even if someone ends up owning a bakery, they often started by catering or baking custom cakes. You need enough personal ability and energy "saved" up to start, not money.

You already know if you want to be a solo entrepreneur. Starting a microbusiness is definitely not for everyone. Do you have an itch in the back of your mind, an idea that you have been nursing for long time? Are you so enthusiastic about something that you wouldn't mind it entering what used to be your free time? Many people are quite happy keeping their job and their play time separate. Finally, read this following book excerpt by Palmer after making her first few months of sales.

As gratifying (and useful) as it was to earn that extra cash, it didn't even begin to get at the satisfaction that my Etsy shop gave me. Each sale affirmed by ability to create something of value, a skill I sometimes doubted that I had as freelancing rates plummeted during the recession and writing jobs dried up. I had a new identity; I created and sold money planners. I began daydreaming about ways I could expand and new products I could design.

There is no guarantee that your solo business venture will be wildly successful. But if just the act of doing it and getting a few readers or customers will give you great satisfaction, what have you got to lose? As noted, the start-up costs should be minimal. I started this blog with an $8 domain name, free open-source software, and web hosting for under $10 a month. 9 years later, I'm still doing it! 🙂