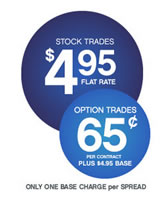 Updated. If you are looking to open a new TradeKing stock brokerage account, don't forget to grab both a $50 opening bonus and a $150 transfer fee reimbursement if moving money from another broker. TradeKing offers $4.95 trades with no minimum balance requirement. There is a inactivity fee if you have less than $2,500 and make zero trades for 12 months. Options are $0.65 a contract. I've been using TK for a while, they are a good basic broker for ETFs and dollar-cost-averaging. I am not an active trader or daytrader.
TradeKing $50 referral bonus
You can get a $50 opening bonus through their refer-a-friend program. You must open with $3,000 and make 3 trades within 90 days. I do have an account with TK and if you'd like a referral, please feel free to us my special referral link.
New referred client must fund their account with a minimum of $3,000 and place 3 trades within 90 days of opening the new account. Account types that don't qualify include: Traditional IRA, Roth IRA, Rollover IRA, SEP IRA, Simple IRA, Solo 401K and Coverdell IRA. Accounts will be reviewed 90 days after account is opened to confirm that all of the requirements are met. At the time of review 3 trades must have been placed within the past 90 days and the account must have at least $3,000 in account equity.
TradeKing transfer fee reimbursement program
If you transfer an account of $2,500 value or greater over to TradeKing, they will also refund up to $150 in account transfer fees charged by your old broker. Yes, you can can combine with the above offer. Here's how:
TradeKing will credit your account transfer fees up to $150 charged by another brokerage firm when completing an account transfer for $2,500 or more. Credit will be deposited to your account within 30 days of receipt of evidence of charge.
Open a New Account or if you already have an account, log in. Complete and print an Account Transfer Form. Mail or fax the signed Account Transfer Form to TradeKing along with a copy of your most recent statement from your previous broker. Request your account transfer reimbursement by faxing your transfer reimbursement form, along with proof of transfer charge, to 866.699.0563.