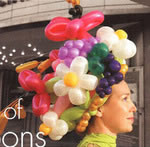 It's not every day that you get to interview someone who:
started out as an Emergency Medicine doctor in her native country of Russia,
went on to be a body double for Cindy Crawford,
is a former public relations executive,
has been reading my blog for nearly a year 😉 ,
… and now spends her time twisting latex balloons.
Irina Patterson is a balloon artist, usually working at upscale events like cocktail hours, galas, art dinners, or yacht events. She is a great example of how following your passions and having an open mind can lead to a fun and flexible self-employed business. Although she admits that it is not passive income, she has managed to build what she terms a "money printing press" since she has all the work she can handle.
I wanted to learn more, so below is an e-mail interview that I recently conducted with Irina:
How did you get started as the "Balloon Lady"?
Believe it or not, I have never seen balloon animals until about 4 years ago. I don't have kids and I don't go to the malls. I saw balloon animals for the first
time at a private party and totally fell in love with the process. I love bright colors. It just made me happy. I guess it makes happy many other people too. Otherwise, how can you explain the demand for balloon art entertainment even now, when people cut down on everything.
How long did you practice making balloons before you started to earn money doing it? Did you worry about not making enough money at it?
I practiced at home for about a week. Then I went to a strip mall. Paid them $75. That was their monthly fee for allowing me to make balloon art
for tips. I made that $75 in tips right back on the first day. At the time, I didn't know better at the time. I only paid fees like that for about 2 months.
You can find places where you can make balloon animals without rental fees. You can find restaurants that will PAY you to entertain their customers. In Miami restaurants usually pay $50-100 per 3-4 hours on a weekend + most customers will usually give a tip. You can expect to make about $ 150 for about 4 hours as a restaurant balloon artist.
But the best part is this. While you are entertaining at a restaurant, you are also marketing your private party entertainment. Private parties will always give you better return on your time. In Miami, on average, a balloon artist can earn $100-200 per hour at a private event. And you are usually booked for more than one hour.
I didn't have to worry about making money as a balloon artist. At the time I was full time employed as a PR executive. But I couldn't believe how easy it was to make money as a balloon artist.
How much time do you spend working on average as an artist? Do you work elsewhere as well?
Right now, I work only as a self-employed balloon artist. I don't have any other job. I mostly work on weekends, about 10 hours a week, on average. I can hold a full time job, if I want to.
How do you advertise your services? Newspapers, online, flyers, radio? Word of mouth?
Word of mouth, period. Once in a while, craigs list. But, word of mouth really keeps me busy. As a solo artist, I can only do so much. Once I am booked.
I am booked and can't be booked some place else. Over the years, I forged relationships with event entertainment agencies. They also send me business. I no longer work restaurants. But people who got my business card from those days, still call me for private events.
How much to do your charge (approximately) per hour for an event?
I charge from $100-300 per hour. A beginner can expect to charge from $50 to $100 for a private event.
What is the most elaborate piece you've ever made? How much did it cost?
I made balloon sculptures of Darth Veida, Shaquille O'Neil, Borat (all full size). Big sculptures cost about $100-200. When I made Borat (at the time of Borat movie release), I tried to sell the sculpture on eBay for $20,000. I didn't sell it, but it brought a lot of publicity. LOL The news got picked up on many blogs and I was profiled in The Miami Herald. t was 4th time The Miami Herald interviewed me. One thing about balloon art, you can get a lot of media coverage out of it. It is always an attention getter.
What is the best part of your job?
The best part of this job is I get paid to do what I enjoy doing. I also get my what I called "color fix". I just need some color in my
life. It is just how I am. An artist would understand. Colors for an artist like breathing.. LOL..
I also can stop and start at any time I want. I don't have to be any specific place at 9 am every day. If I don't want to work this week, I don't have
to. I can work more next week to catch up. If I would travel to different countries, I could work there too, if necessary. I also feel very confident about
my retirement years. I always can make money with little effort if I have to.
What advice would you give to someone who wants to start a side job or career as a event entertainer?
First, find out if you like it. It makes all the difference. Volunteer at events with entertainment. Take a class, if there is one in your area.
If not, make friends with someone who is already established entertainer. They are usually very friendly. You can find an entertainer in your area here (Do search by your zip code).
Any other tips?
The key secret is this. Most people think that to be an event entertainer you need to go to a circus school or have some other elaborate training.
Then you need to have a business plan, operating and marketing budget and establish a company.
But I can tell you this. All you have to do is want to do it. That's all. The cost of minimum supplies is $15 or so. You can learn the basics in 2 hours.
Most people don't know the different between basic and advanced balloon art. And you can make them happy either way.
If you want to learn advanced art, all the power to you. But if you have bills to pay and need money now, grab a bag of balloons and a pump and call a local restaurant to offer your entertainment for tips now.
– end of interview –
Recap
I want to thank Irina for the enlightening interview. Here are some quick take-aways for me:
Had an idea come out of the blue, but went for it. I believe that most people, even if they had the idea, would still not have showed up at the park that day.
The start-up costs were minimal – and she made a profit on the first day!
Was working full-time in PR at the time, so in reality the risk was low.
Steadily built up a business of recurring clients gradually through word-of-mouth.
Now works when she wants, where she wants, at $100 per hour!
You can find more information about Irina and her business at her website, My Life and Art. If you're an entrepreneur with a unique story and would like to be interviewed here as well, please feel free to contact me.
Past Entrepreneur Interviews: