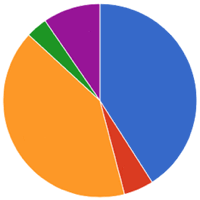 Here is a roughly mid-year 2016 update on my investment portfolio holdings. This includes tax-deferred accounts like 401ks, IRAs, and taxable brokerage holdings, but excludes things like our primary home and cash reserves (emergency fund). The purpose of this portfolio is to create enough income to cover household expenses.
Target Asset Allocation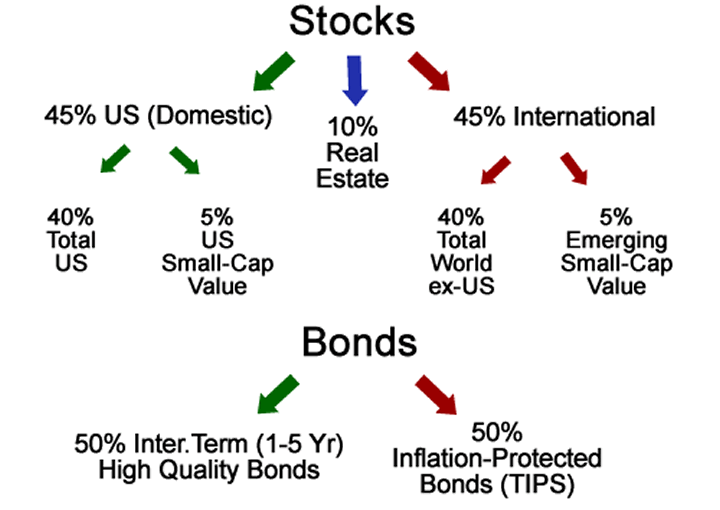 I try to pick asset classes that will provide long-term returns above inflation, distribute income via dividends and interest, and finally offer some historical tendencies to balance each other out. I don't hold commodities futures or gold as they don't provide any income and I don't believe they'll outpace inflation significantly. In addition, I don't have enough "faith" in their fundamentals to hold them through an extended period of underperformance (i.e. don't buy what you don't can't stick with).
Our current target ratio is 70% stocks and 30% bonds within our investment strategy of buy, hold, and rebalance. With a self-managed, simple portfolio of low-cost funds, we minimize management fees, commissions, and income taxes.
Actual Asset Allocation and Holdings

Stock Holdings
Vanguard Total Stock Market Fund (VTI, VTSMX, VTSAX)
Vanguard Total International Stock Market Fund (VXUS, VGTSX, VTIAX)
WisdomTree SmallCap Dividend ETF (DES)
WisdomTree Emerging Markets SmallCap Dividend ETF (DGS)
Vanguard REIT Index Fund (VNQ, VGSIX, VGSLX)
Bond Holdings
Vanguard Limited-Term Tax-Exempt Fund (VMLTX, VMLUX)
Vanguard Intermediate-Term Tax-Exempt Fund (VWITX, VWIUX)
Vanguard High-Yield Tax-Exempt Fund (VWAHX, VWALX)
Vanguard Inflation-Protected Securities Fund (VIPSX, VAIPX)
iShares Barclays TIPS Bond ETF (TIP)
Individual TIPS securities
U.S. Savings Bonds (Series I)
Commentary
Since my last quarterly update, I've done the "just keep swimming, just keep swimming" thing and continued dollar-cost-averaging into the same investment mix. Nothing seems like a great deal, but I remain optimistic. I have not made any sell transactions. I still hold WisdomTree SmallCap Dividend ETF (DES) and WisdomTree Emerging Markets SmallCap Dividend ETF (DGS), as I still like the idea of holding a bit extra of those asset classes even though the ETFs available are not all that great.
I'm still somewhat underweight in TIPS mostly due to limited tax-deferred space as I really don't want to hold them in a taxable account. (I should note that shares of TIP and VIPSX are up roughly 7% YTD, but the forward real yield is now negative). My taxable bonds are split roughly evenly between the three Vanguard muni funds. The average duration across all of them is roughly 4.5 years.
A simple benchmark for my portfolio is 50% Vanguard LifeStrategy Growth Fund (VASGX) and 50% Vanguard LifeStrategy Moderate Growth Fund (VSMGX), one is 60/40 and one is 80/20 so it also works out to 70% stocks and 30% bonds. That benchmark would have a total return of -0.87% for 2015 and +6.61% YTD (as of 7/31/16).
I like tracking my dividend and interest income more than overall market movements. In a separate post, I will update the amount of income that I am deriving from this portfolio along with how that compares to my expenses.