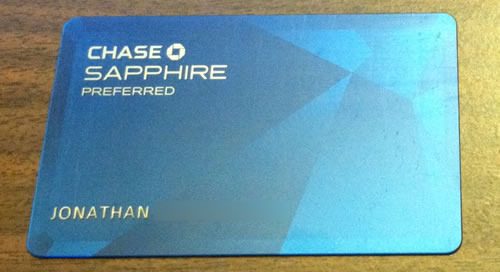 Looking back, 2011 was a great year for credit card sign-up incentives. The major issuers rolled out some new cards and features and offered up big bonuses to get you to try them out. By picking up the tastiest offers, you could have reaped thousands of dollars in bonuses even with average incomes and without spending more than normal. If you have good to excellent credit, why not earn some money with it? Here's what Mrs. MMB and I decided to jump on last year:
Chase Sapphire Preferred: $625 in travel
The Chase Sapphire Preferred® Card gives you 50,000 bonus points after you spend $4,000 in purchases within the first 3 months. With this new card, Chase is basically trying to make a premium card that competes with American Express, with their Ultimate Rewards rivaling Membership Rewards. (It's metal and heavy, too!) For example, you can now transfer Ultimate Rewards points to Continental/United, Southwest, British Airways, Hyatt, and Marriott. This the same system the Chase Freedom card uses now as well.
But my favorite features are the cash options and the 20% bonus towards travel. 10,000 points = $100 cash = $120 towards travel at no markup (same price as Expedia, Travelocity, etc). You can mix points and cash however you like, which means 40k points = $500 towards any airfare or hotel nights. No annual fee the first year, $95 after that.
Ink Bold Business Charge Card: $500 cash or $625 in travel
The small business version of the Chase Sapphire, this card also offers a huge sign-up bonus. The Ink Bold® Business Charge Card from Chase gives you 50,000 Ultimate Rewards points – after spending $5,000 in the first 3 months your account is open. For more details, please see my Chase Ink Bold review post, including details on what constitutes a small business.
Citi ThankYou Premier: $500 in gift card or $665 in airfare
The Citi ThankYou Premier Card is another travel-oriented premium credit card gives you 50,000 ThankYou points after spending $2,500 within 3 months of account opening. The special feature here is that it offers you a 33% premium on when used towards travel. That means those 50,000 ThankYou points can be redeemed for $665 in airfare. They also have their own airfare portal with the same prices as Expedia, and you can also mix and match cash and points if you don't have enough points to pay for the entire amount. For more details, please see my Citi ThankYou Premier review post. (Now expired)
Gold Delta SkyMiles Credit Card from American Express: 30,000 miles
The Gold Delta SkyMiles® Credit Card from American Express is not a great deal for everyone, but it works out very well for us. (It's actually our second card, I had one previously.) My wife and I both fly cross-country together to a city primarily served by Delta at least once a year to visit the parents. The sign-up incentive is pretty good – 30,000 Skymiles after just $1,000 in purchases within your first 3 months.
More importantly, the card comes with a buy-one-get-one-for-$99 companion voucher (now expired) that saved us $250+ this year since it's usually during a holiday. We've used this voucher before, and the prices are comparable to online travel engines, but you do get stuck with the taxes of $50 or so. The annual fee is free the first year, and $95 after that. You also get a free checked bag on every flight for you and up to 8 travel companions (so one card gets us two free bags as a couple, a $50 value per person each roundtrip). The total one-year value of this card is at least $600 if value a mile at a penny.
Grand total: $625 + $625 + $665 + $600 = $2,515
That's just for four cards from three different issuers, which is far less than the most cards I've applied for in a year on my own. This means a couple could make over $5,000, which is 10% of the 2009 US median household income of $50,221 per US Census. As for us, we plan on making good use of this money to cover future airfare and hotel expenses. This total also does not include any earnings from cash-back rewards credit cards.
If we include the Ink Bold Business Charge Card, the required spending total was $11,000. Exclude the Ink Bold, and it goes down to $6,000, which if you use time-shifting techniques like pre-paying bills such as insurance/utilities or buying gift cards for groceries/gas, works out to a reasonable $500 per month. That's well within our normal spending anyway.
Honorable mentions go out to three other cards:
The Chase British Airways 100,000 miles offer came back in 2012, but both my wife and I already jumped on it previously and have already used it for a luxurious business-class trip around Europe.
The Southwest Airlines card offered up 50,000 points (expired) which was good for over $800 in Wanna Get Away airfare after just one purchase of any amount. The current offer is 25,000 points for a still-respectable $416 in airfare. We don't fly Southwest all that often, so we passed on this card this year.
The Hyatt Card offers two free nights at any Hyatt in the world after any first purchase, which includes some rather swank hotels. There is a $75 annual fee. My sister got this card and we were pretty close to applying, but we wanted to hold off until we had firm travel plans since I believe you have a certain time to redeem.
My psychic powers tell me that some of you are wondering about this ;), so here's the answer: How Opening and Closing Credit Card Accounts Affects Your Credit Score.

"Disclaimer: This content is not provided or commissioned by the issuer. Opinions expressed here are author's alone, not those of the issuer, and have not been reviewed, approved or otherwise endorsed by the issuer. This site may be compensated through the issuer's Affiliate Program." 
"The responses below are not provided or commissioned by the bank advertiser. Responses have not been reviewed, approved or otherwise endorsed by the bank advertiser. It is not the bank advertiser's responsibility to ensure all posts and/or questions are answered."