Updated. You may or may not be familiar with Maslow's Hierarchy of Needs, which is part of one theory explaining human behavior by psychologist Abraham Maslow. It suggests that there are five general levels of needs:
Physiological
Safety
Social
Esteem
Growth
These are often represented as a triangle due to their relative importance. Lower needs must be satisfied before the higher needs can be addressed. For example, one must first obtain food and water (physiological) before worrying about what might happen if they get in a car accident tomorrow (safety). It's just a theory, but an interesting one.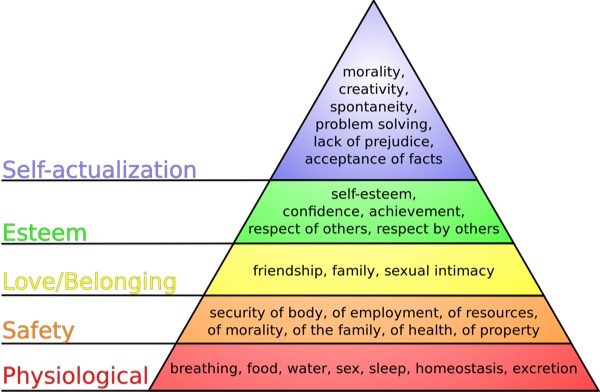 While not all of these needs can be explicitly bought with money, it's not too much of a stretch to see the relationship between this triangle and finances. We usually worry about paying for rent and food first before worrying about giving to charity or that long distance telephone bill.
In the book Retirement Income Redesigned, the authors make a close correlation between the hierarchy of needs and planning for retirement. Here is a figure from the book: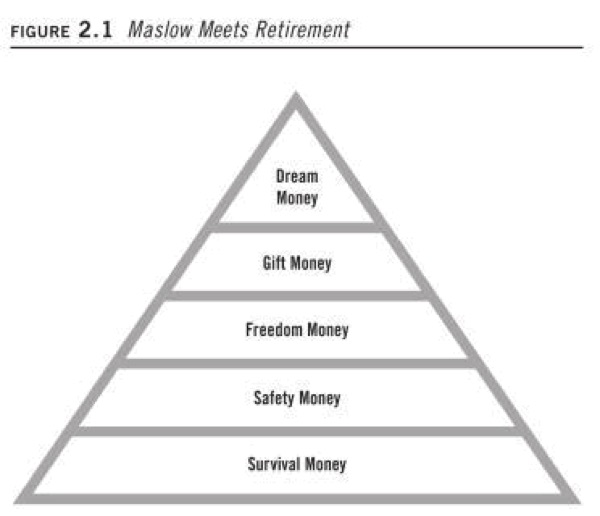 The new levels:
Survival income. How much do you spend simply to survive?
What-if income. You will want to protect your life. This could mean health care costs, health insurance, and/or proper portfolio planning so you don't outlive your money.
Freedom income. Money needed to do the things that bring joy and fulfillment to your life. Could be travel, education, or fine wine.
Gift income. Money for people and causes that deserve your help. This is the replacement for "love".
Dream income. This is the elusive "self-actualization" level where you find true happiness and meaning.
By breaking down your income needs, this could be another way to track your progress towards financial freedom. You can make covering your bare necessities your first smaller goal, and move on from there. This would involve both measuring your expenses and also deciding how much you'd need to save to create that much income.