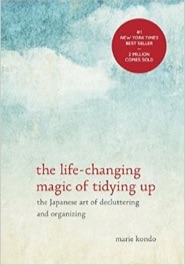 I suppose it's not a good sign that in the middle of reading a #1 NYT bestselling book on organizing your stuff… you lose the book in all your stuff. In case you haven't heard of it yet, The Life-Changing Magic of Tidying Up: The Japanese Art of Decluttering and Organizing by Marie Kondo. In my defense, it is a rather small book. I hope I don't have to buy another one.
Instead of spending more time looking for it, I decided to make a list of all my financial items that could use some decluttering. As someone who loves to try out new financial products, I tend to accumulate accounts in during bouts of enthusiasm. Part of the "Kondo-ing" process is going through things by categories (i.e. clothing) and not moving onto another category until you're done. Most importantly, you should only keep things that "bring you joy". Hmm… how about "bring me profit"?
Bank accounts
Close out inactive bank accounts which are unlikely to offer good interest rates or other benefits in the future.
Re-examine all automated transfers (direct deposit, 401k contributions, 529 contributions, auto billpay, etc).
Investment accounts
Close out idle brokerage accounts.
Merge all speculative activity into one brokerage account.
Consider liquidating all positions smaller than a certain size.
Merge smaller 529 plan accounts and/or change beneficiaries.
Check up on LendingClub and Prosper P2P lending accounts. These should be nearly wound down.
Check up on Patch of Land crowdfunded hard money lending account.
Credit card accounts
Close out accounts which will not justify the annual fee based on my planned activities for the next year. Decide ahead of time which ones to keep if they offer to waive the annual fee for another year.
Mark on calendar any special perks or benefits which still need to be used.
Gift cards
Redeem Visa/Mastercard/AmEx prepaid cards into Amazon gift card credit.
Think of ways to use up retail gift cards; add to calendar to be finished next two weeks.
Decide what to do with unused retail gift card. Sell at loss? Wait until year-end 2015 and use for gifts?
Not-going-to-do list
I still haven't gone paperless and have no immediate plans to do so, but I already have a pretty good system for organizing my paper statements.
The same system already has me examining all expenses on a monthly basis.
I'm happy with my core investment portfolio. Relatively clean and simple.
I don't have any old 401k or IRA balances floating around. We have an active 401(k) at Schwab PCRA, Solo 401(k) at Fidelity, and IRAs at Vanguard.
I'm happy with our core monthly cashflow setup. We combine finances and have one joint checking account where we deposit a set amount each month and pay all bills from that account. We make additional transfers if we have larger one-time expenses like a new roof or something.
I'll try to update as I work through this list.