I must admit that I procrastinated on setting up a will, much like many others. Ideally, an experienced, skilled estate lawyer would create something customized to your situation. But it is not always clear how to find such a person, or know what a fair cost would be. Maybe we just don't like the idea of thinking about death.
If you don't create a will, your state already has a default plan in place (look up the intestacy laws in your state) and it may not be what you would have chosen. Do you want a stranger appointing the guardian of your children? I tried to think of it as a gift to my family. A reader recently told me about Willing.com, a new website that promises a free, legal will in about 10 minutes. Is such a service a good idea?
Here's what The Consumerist (owned by Consumer Reports) had to say about other DIY will-making software:
Our wallet-watching cousins at the Consumer Reports Money Adviser newsletter took a look at three DIY options for will-making — LegalZoom, Rocket Lawyer and Quicken WillMaker Plus — and found that while all three are better than not having a will, none of them is likely to meet the needs of anything more than the most basic of estates.
I'd never heard of Willing before, but the other software costs $35 and up, so I took it for a little spin and took a bunch of screenshots (click to enlarge).
Overall, the interface was very pleasant and modern and mobile-friendly.
First, they will ask some basic information about you and your family. Names, genders, zip codes, and birthdates, but not Social Security Numbers. I suppose they aren't required legally? At least it's one less source of identity theft to worry about.
Next, they will ask you how you want to handle your property…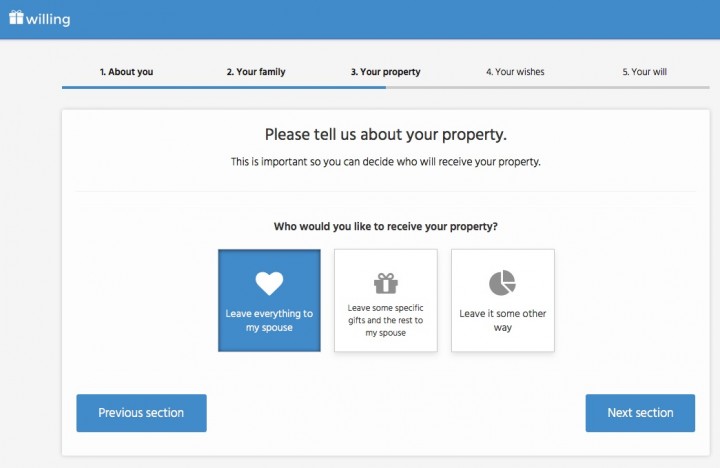 .. and final arrangements.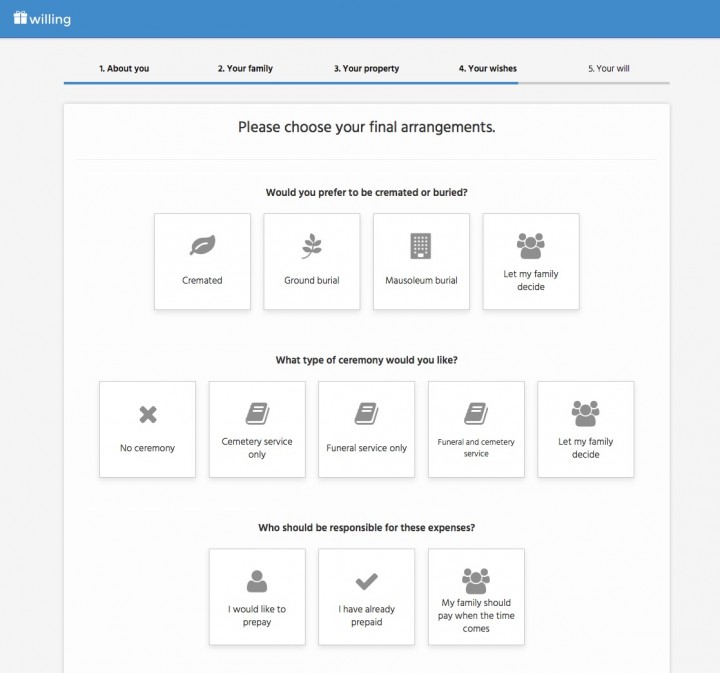 Who do you want to carry out your wishes?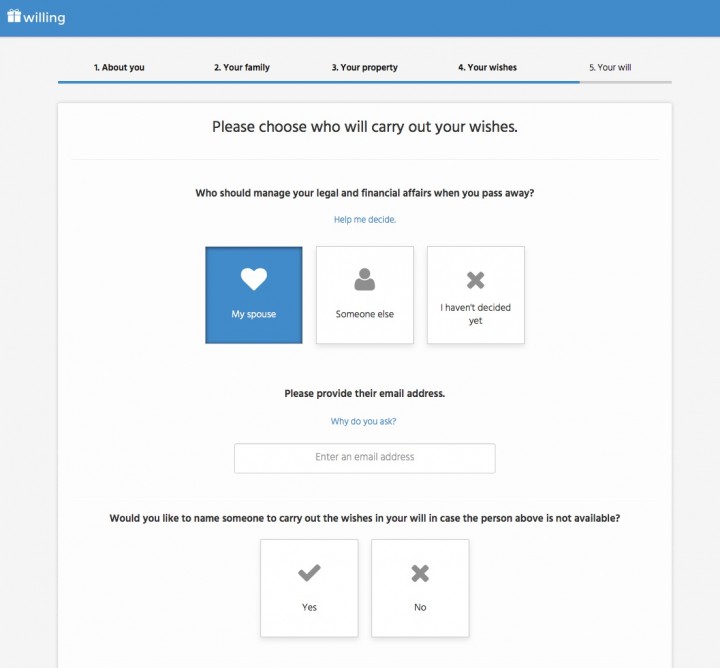 When you're done with the questionnaire, your will is created and customized to your state.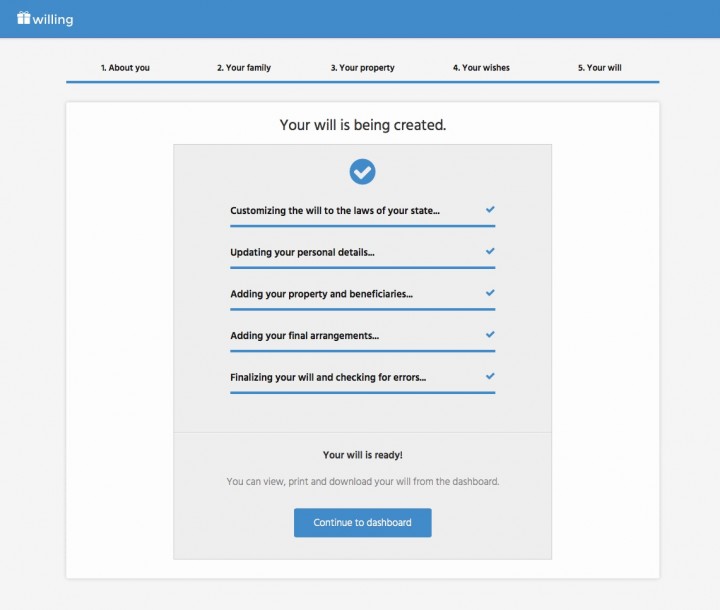 You can then print or download your complete will as a PDF, and also create an optional living will.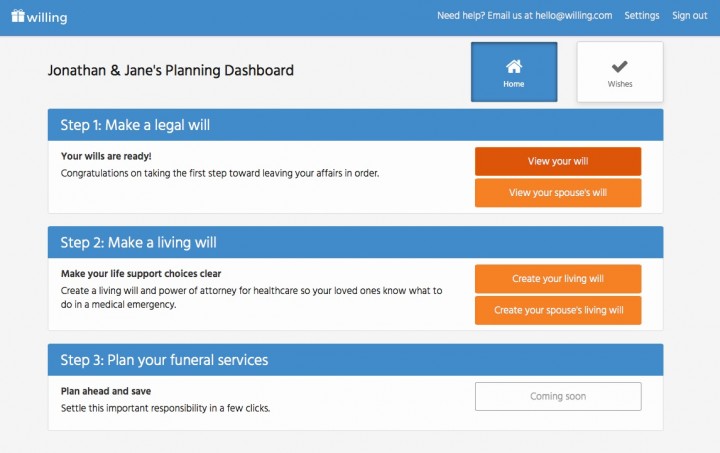 At no point do you see any advertisements nor do they ask for any payment information. The last screenshot does provide a hint as to the future revenue model for Willing – perhaps they will set up a way for you to prepay your funeral expenses (relieving your family of some stress and money) and get a little cut of that. That sounds reasonable to me if they are providing the will for free. Of course, if you live another 50 years, will you even remember shelling out that money?
I am not a lawyer and thus can't vouch for the accuracy or quality of the will contents. As the Consumerist article states, one thing to worry about is outdated information if their software isn't updated regularly. The final instructions tell you to sign the will along with two valid witnesses and that a notary is not required for the will to be legally binding.
The final document produced was only three pages long, although my theoretical situation was pretty simple. As I read through it, I started to see how such software would eventually become free. Indeed, while researching this post, I found several other "free will makers", although Willing.com had the best user interface and had the least amount of annoying ads.
It may not be optimal, but at least going through the Q&A process will make you aware of the various issues you need to think about. Who will take care of your kids if your spouse dies? Who is your backup heir? Your backup estate executor? Maybe just starting the process of putting your wishes down in writing is a good thing. Otherwise, I can see someone with a simple situation using this software, but don't know if I could recommend such a service to my friends. If I really cared about how my estate was handled (i.e. I had a significant net worth and/or dependents), I would recommend hiring a lawyer instead. The question then becomes – Is there a better way to find a good estate lawyer than relying on word-of-mouth?