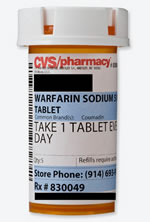 While standing in line at the Costco pharmacy, I found myself in a discussion with another Costco member who apparently saves over a thousand dollars a year on her meds by buying them there instead of her neighborhood CVS. (I also got an earful about the Medicare Part D "donut hole".) I'm fortunate enough that I am currently not on any prescription medications, but OECD health statistics have Americans spending $1,000 a year per capita on pharmaceuticals. A similar survey by Consumer Reports arrived at $768 in average out-of-pocket costs per person.
Here are some things you may or may not know about the Costco Pharmacy:
Costco posts their drug price list online for everyone to see. No other pharmacy chain does this. Gee, I wonder why?
You don't need a Costco membership to buy things from the pharmacy. You can simply tell the front door greeter/checker your prescription that you are going to the pharmacy.
Costco has their own "drug discount card", called the Costco Member Prescription Program (CMPP), which is for people who have no prescription drug insurance or whose insurance does not cover all of their prescription medication. This is for Costco members only. Since you never know what drug will be covered or not, everyone should enroll and save 5% to 40% if/when you ever need it. You must fill out an enrollment form and return it to your Costco pharmacist.
Costco sells pet medication. The hardest part may be getting your vet to write you a prescription, since many vets fill their own orders as a significant part of their income. The CMPP above also applies to pet meds.
In 2013, Consumer Reports found Costco Pharmacy to offer the lowest prices overall when they compared a basket of popular generic drugs like Lipitor and Singulair. Given the "generic" terminology, I was surprised to learn how much prices can still vary.
Our secret shoppers called more than 200 pharmacies throughout the U.S. to get prices on a month's supply of five blockbuster drugs that have recently become available as generics: Actos (pioglitazone), for diabetes; Lexapro (escitalopram), an antidepressant; Lipitor (atorvastatin), for high cholesterol; Plavix (clopidogrel), a blood thinner; and Singulair (montelukast), for asthma. The result? A whopping difference of $749, or 447 percent, between the highest- and lowest-priced stores.

Costco was the least expensive overall, and you don't need to be a member to use its pharmacy. A few independent pharmacies came in even cheaper, though their prices varied widely, as did grocery-store pharmacies. The online retailers Healthwarehouse.com and FamilyMeds.com also had very low prices. On the other end of the spectrum, CVS, Rite Aid, and Target had the highest retail prices.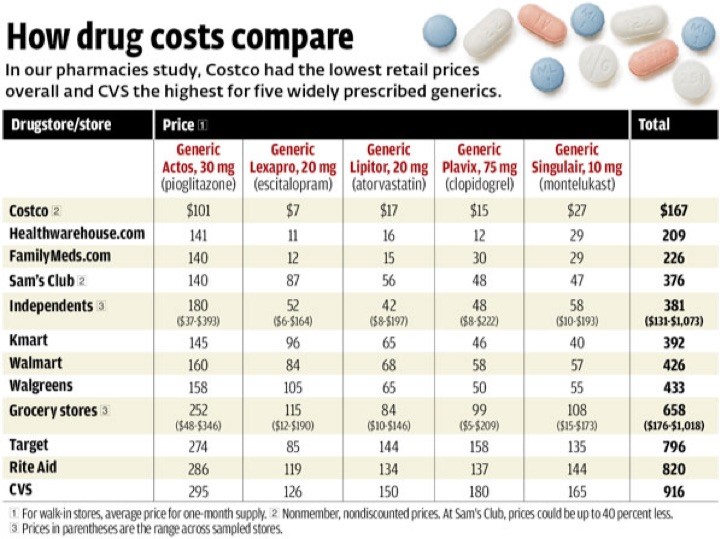 The basic takeaway appears to be that if any your drug costs are not nearly completely covered by insurance, you should do a price comparison with Costco pharmacy (you can also order meds online using their home delivery option if you don't have a warehouse nearby). The cost differential can be very significant, especially over time. Adding up your annual savings may convince you to forgo the convenience of that 24/7 drive-thru down the road.
Even if you have prescription insurance, it might still be cheaper to get a 90-day supply from Costco as opposed to paying three co-pays for three 30-day refills. (Watch out if you have Part D though, as paying cash may mean it doesn't count towards your deductible and thus won't help you get out of that aforementioned donut hole.)