Here's another chart to ponder, found as part of an Emergency Physicians Monthly article about investing during recessions. It shows what has happened in the past to the S&P 500 five years after a significant market decline.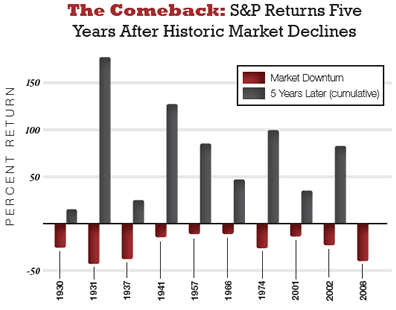 Or course, you should also remember that if you experienced a 50% drop, mathematically you'll need a 100% increase to get back to your original point. But your money invested after and during the drop will have done much better.
From the conclusion of the article:
While it's tempting to shift your portfolio during economic crises, the noise in the data, the lag time between the beginning of a recession and its announcement, the potential false signals, and the historical market returns during recessions suggest that it's difficult to time the market successfully. With some historical knowledge, we can sail through future stormy markets a bit easier.
Via EmergDoc at Bogleheads.