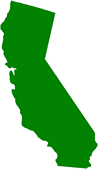 A lot of states are struggling these days, including the Golden State. Even though California already had the top marginal personal income tax rate and highest base sales tax rate in the country, they are getting even higher. According to a legislative study, the following four tax increases will make an average family of four with an annual income of $75,000 pay $963 more a year in taxes. Here's how it breaks down:
#1 – Sales Tax
Starting April 1st, the base sales tax rate will rise from 7.25% to 8.25%. While this is only one additional penny per dollar, relatively it is a 12% increase in sales taxes. The base rate doesn't include taxes added by individual cities and counties. For example, the total sales tax rate in San Francisco will now be 9.5%. In some cities it will break 10%.
#2 – State Income Taxes
Personal income taxes would increase across the board by 0.25 percent on taxable income for 2009. The highest bracket is now 10.55%. A single person with more than $47,055 in taxable income will be in a marginal bracket of 9.55%. Remember, this is on top of Federal income taxes.
Examples: This equates to an additional $125 for taxpayers filing jointly with $50,000 in taxable income, $250 for taxpayers filing jointly with $100,000 in taxable income, and $1,250 for taxpayers filing jointly with $500,000 in taxable income.
If California receives $10 billion or more in certain types of assistance from the federal stimulus package, the tax increase would drop by half to 0.125 percent. However, a recent study by the state Department of Finance has found it unlikely that this level will be reached ($2 billion short).
#3 – Annual Vehicle Licensing Fees
These fees will double, to 1.15% of the car's value each year. On a new car valued at $25,000, the vehicle license fee will be $288. The increased fee is effective on registrations beginning May 19.
#4 – Dependent Tax Credit
This tax credit will be reduced by $210 (for each dependent).
Sources: LA Times, SF Chronicle, Sacramento Bee.