Charlie Munger held a fireside chat with Todd Combs back in April 2022 as part of a Singleton Prize for CEO Excellence event, and more recently a full audio recording and full text transcript has been made available. The talk covered a variety of different topics, which fans of Berkshire Hathaway/Buffett/Munger-style wisdom will likely value. Found via Neckar and Kingswell (both excellent substacks on value investing topics).
I enjoyed this quote about the power of combining internal motivation and long attention span:
Warren was around me and he used to say, "You really don't need to be very smart to be a very successful investor." And I think Warren was right. It's a field where the temperament is, it's good to have the extra mental horsepower that Henry Singleton had. That is helpful, but it's perfectly possible to do splendidly well if you have the right temperament. Just go at it over a long time. You talked about me. I'm not a polymath. What I am is a guy who has been able to take moderate obsession and a long attention span and turn them into pretty good results. Of course, a long attention span will help you a lot, if you're reasonably smart.

[…] I don't know how to fix [inaudible]. I'd love to be able to wave my hand and solve that problem, but I don't think that's given to man, to fix some of those problems. So I just stay away from the problems that can't be fixed and pick the ones that can – I don't like unlimited failure. I don't want to fish forever and never catch a fish. I have to have some reinforcement. And so I pick some things that can be done and do them. But I do think that if you're reasonably obsessed with something, even if it's intermittent, and you have a long attention span, you keep working over the serious problems, that you'll stumble into an answer. That's half the secret of life.
However, I also noticed he added in a point about picking the right problem to solve. I've previously shared this Venn diagram by Bud Caddell: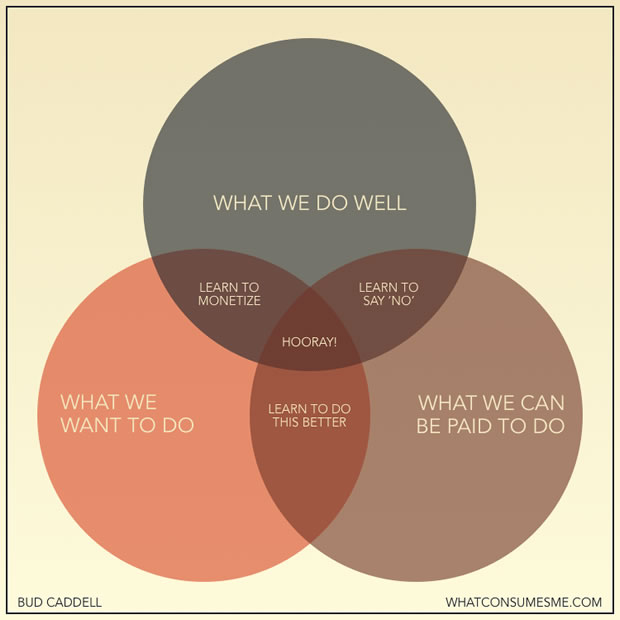 You do need to pick something where you have a natural "obsession" or "passion" because it will help you keep at it and not give up. However, most mortals should add in a bit of practicality and pick an area for which you at least have a little bit of talent and that isn't completely impossible or saturated with competition.