Update – This promotion is now EXPIRED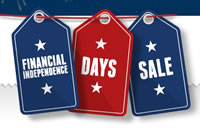 Capital One Consumer Bank has their annual Financial Independence Day promotion which boosts the usual bonus for their Consumer Bank Savings and 360 Checking accounts. (Artist formerly known as ING Direct.) Offers good until Wednesday, July 3rd 11:59PM ET.
Consumer Bank Savings $76 Bonus
Open a no-fee 360 Savings account between July 1st and 3rd ($500 minimum deposit) and snag $76.
This has to be your first Consumer Bank Savings account (includes Orange Savings Account).
The bonus starts earning interest on day 1, but you can't take it out for at least 30 days.
0.75% variable Annual Percentage Yield (APY) effective 6/30/2013.
For more, check out my Capital One 360 Savings Account Review.
Consumer Bank Checking $100 Bonus
Open a fee-free 360 Checking account between July 1st and 3rd (with a deposit of $500 or more) and grab $100.
This has to be your first Consumer Bank Checking account.
Make a total of 5 purchases (either signature of PIN-based) using your 360 Checking Debit Card, make 5 CheckMate deposits or any combination of the two within 45 days. Your $100 bonus will be automatically deposited into your account on day 50.
Variable APYs effective 6/30/2013: 0.20% Balances under $50,000 / 0.80% Balances between $50,000 and $99,999 / 0.85% $100,000+.