Capital One bought ING Direct USA back in early 2012, and has finally completed their transition and re-branding. Their new savings account product is called Capital One Consumer Bank Savings. Since I've had an account with them for over a decade (September 2001, as they remind me every time I log in), here's an updated review of my 2nd oldest bank account meant for both new and existing customers.
User Interface
At first glance, the only thing that really changed was that the primary colors went from orange and blue to Capital One's red and blue. However, there are a few other tweaks that I noticed were different from the ole' ING Direct days.
Login. This is still a little unique amongst online savings accounts. You login with either a username/account number and a PIN number (not an alphanumeric pA$sW0rd). If you have an old 4-digit PIN, they'll ask you to change the PIN to a 6-digit number for better security. In addition, while the default entry method is via mouse clicks to avoid keystroke loggers stealing your password, you can also use a keyboard to enter the PIN with a creative key-to-number conversion that changes each time. See screenshot below: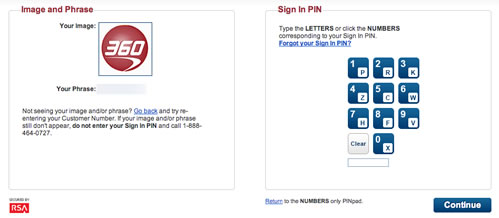 Main account screen. The home screen is simple and straightforward, as always. There is better integration with their brokerage arm, Sharebuilder, with your balance automatically showing and the ability to perform same-day transfers between accounts. So if you have a Sharebuilder account, you essentially have a high-interest sweep option instead of a money market fund paying zero interest. Screenshot: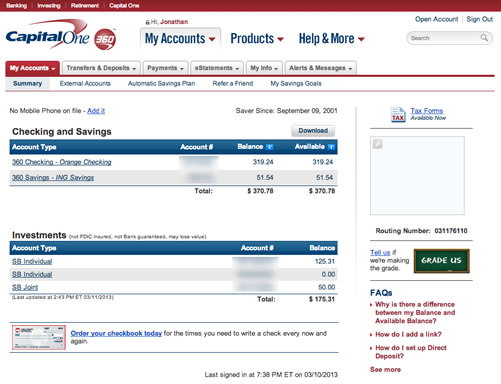 Interbank transfers. You'll need a separate checking account in order open an account, as well as to withdraw/deposit money via online ACH funds transfer. You can link up to 3 external checking accounts at a time. CapOne Consumer Bank online funds transfers remain a bit quicker than some other online banks, with an average of 2 business days for completion. (Day 0 request transfer during business hours, Day 2 the funds are deposited in target account.) You can link new accounts using either online (two small verification deposits) or physical methods (mail them a check). Screenshot: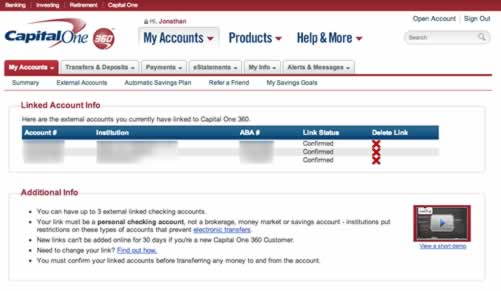 Mobile check deposit. Finally! Even if you only have the savings account, you can use their new Checkmate service, which allows you to make check deposits via smartphone app or by uploading an image (taken with a camera or scanned) from your computer. Here are download links for the iPhone/iPod/iPad app and Android OS versions of the Capital One Mobile app. (Customers of other Capital One Bank products may be disappointed to hear that mobile check deposit is currently only available for Consumer Bank customers.) Screenshots: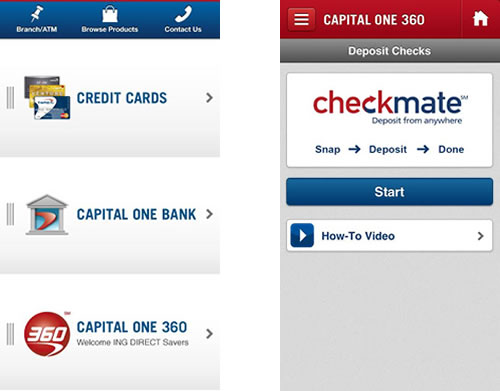 Subaccounts. Another unique feature of ING Direct was the ability to create unlimited subaccounts to better facilitate specific savings goals. For example, you could open up additional savings accounts called "Europe Vacation", "Emergency Fund", or "Jon's Slush Fund". You can also easily set up automatic transfers to regular put aside different amounts of money into each of these accounts (i.e. $200 a month, $25 a week, etc). This handy tool remains, with a max of 25 subaccounts.
Important Numbers and Stats
Current interest rate: % APY
Interest Compounding: accrued daily, compounded monthly, credited monthly.
Minimum to open: $1
Minimum requirements to avoid monthly service charge: None.
Number of external bank account links allowed: 3
Routing Number: 031176110 (same as before)
FDIC Insurance: Capital One Consumer Bank is federally insured up to $250,000 per depositor with FDIC Certificate #4297 of Capital One, N.A. Their Bankrate Safe & Sound rating is 4 out of 5 stars (Sound). ING Bank, FSB and Capital One, N.A. legally became one bank, so if you have other accounts with Capital One NA your combined balances may now be subject to FDIC limits.
Customer service contact information: 24/7 Interactive Phone Service at 1-888-464-7868. Talk to a human at 1-888-464-0727 from 8 AM to 8 PM (all time zones), 7 days a week.
Recap
So far, it looks like Capital One Consumer Bank Savings has kept all the important aspects of the former ING Direct experience intact – No minimums and no fees, easy-to-use interface, and lots of subaccounts to tuck away your money. They have a long history of reasonably competitive interest rates – usually not the absolute highest these days, but consistently within 0.25% or less. The addition of mobile check deposit and better smartphone apps is a small but welcome improvement.
As before, the Savings account is meant to complement your existing checking account. If you want ATM withdrawals, checkwriting ability, or online billpay, you will need to open up a Capital One Consumer Bank checking account (formerly Electric Orange Checking).
This is all part of Capital One's plan to become one of the big boys with a complete portfolio of banking products, credit cards (some good cash back rewards options and small business rewards cards nowadays), and brokerage/investment/401k plans (Sharebuilder).