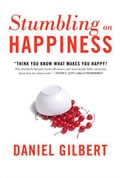 Stumbling on Happiness by Daniel Gilbert is in many ways like other popular behavioral psychology books. It's a New York Times bestseller. It tends to list a lot of ways that humans behave irrationally or incorrectly as shown by academic studies. The writing is casual and accessible. It even has blurbs by other very popular authors like Steven Levitt, Malcolm Gladwell, and Daniel Kahneman.
This book was actually published back in 2007, but I came across a cheap used copy recently and bought it because it had "happiness" in the title. I was interested to see these behavioral quirks applied to happiness instead of the usual economics and money. Here are my notes.
What makes humans different than all other animals? Gilbert posits that humans are the only animals to think about the future. Some animals may do things by instinct like squirrels hiding nuts, but you'll only find humans getting excited about planning their summer vacation, or fretting about being broke in their old age. I've never thought of it that way.
Using our imagination. How do we find out what will make us happy in the future? We use our imagination. But in a nutshell, our imagination isn't very good.
To start, we don't remember the past very well. We tend to leave some stuff out and also to fill in other details, all without knowing it. (This can't be good for eyewitness testimony.) We think something is worth a lot more on the open market if we've owned it before (books, cars, stock shares, etc.)
Imagining the future is even worse. We believe that we'd be completely depressed if we were part of a conjoined twin, but actually most conjoined twins are quite happy and have no desire to be split up. The same holds true of many disabled individuals. Here's another example. Would you rather have $20 in 365 days or $19 in 364 days? Most people choose the $20. But 364 days later, if given the choice again, much more people would choose $19 today vs. $20 tomorrow. The pain of waiting one-day is always the same, it just seems different depending on how your imagination looks at it.
Gilbert also points out that the data we have suggests that having children actually doesn't bring happiness. Figure 23 in the book (see below) combines data from four different studies that show that marital satisfaction drops after birth and only increases again when the child leaves home. He says that society needs us to believe children bring happiness or else there would be no society. Hmm… I don't know about this one.
The book ends a bit flat, as the conclusion is that the only way to know if something will make us happy in the future is to ask someone else experiencing the exact same thing right now. The problem is that as humans, we tend to think we're snowflakes and that possibly can't be true. (Except it does tend to be true, especially when you ask enough people.) Even the author admits that this is unsatisfying. Other than that, the best we can do is to simply acknowledge that our imaginations are imperfect.