Update: Yanking this one from waaaay back in the archives! Today (6/4) only, the Kindle eBook version of The Four Pillars of Investing is only $1.99. I read this book nearly 10 years ago, and I still have my hardcover copy sitting on my bookshelf. One of my favorites.
My original review published on December 26, 2004: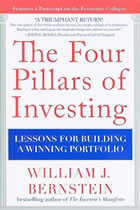 While A Random Walk Down Wall Street was more of a primer on investing in general, The Four Pillars of Investing by William Bernstein focuses on forming your portfolio. The four pillars are investment theory, history, psychology, and finally investment business.
The book uses statistics and research to support it's conclusions, which are (briefly and in my opinion) that:
Markets go up and down, but timing it is hard if not impossible, and any success one may have is basically luck.
As risk increases, so does the return. (Ex. Small-cap stocks vs. Large-cap stocks.)
Yes, many actively-managed mutuals fund beat the market every year, but there is no way that you could pick them ahead of time. This year's winners are just as likely to be next year's losers. Stick with index funds with the risk-return profile that you desire.
Brokerage firms and stock brokers make their money on commissions and spreads. Most mutual fund companies are similar in that they make their money from fees, without actually being very good at market-beating returns.
Proper diversification in low-expense ratio products can bring you the best chance to keep your money and make it grow.
The book is pretty easy to read, with minimal math. I also briefly browsed Bernstein's previous book, The Intelligent Asset Allocator, which has a similar focus but is very heavy in the math department. I'd read this book first and see if you thirst for the mathematical underpinnings. I didn't.