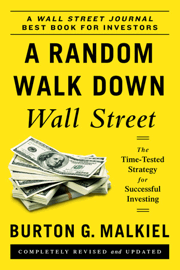 I just finished up A Random Walk Down Wall Street by Burton G. Malkiel. This book became famous in 1973 for suggesting that a bunch of monkeys throwing darts at the Wall Street Journal could beat out most professional managers. And that theme, supported by a lot of statistics spit out by a lot of grad students, endures today. As the Amazon editorial review puts it succintly:
Malkiel advises investors to "buy and hold" a diversified portfolio heavy on index funds that passively mirror the market, which usually out-perform actively managed funds.
It also contains history about the stock market, and a straightforward discussion of common terms like "P/E" and "Beta" and "EMA". Overall, I found the book very enjoyable and an easy read, and I can see how transaction costs in actively managed funds eat into the final return. Low expenses are key. The final part is what "diversified" means, as in asset allocation. The book does give the following suggestion for people in their mid-20s:
65% Stocks / 20% Bonds / 10% Real Estate / 5% Cash
This book is a great primer on investing overall and also gives some useful pointers on bulding your own portfolio.