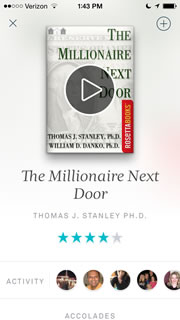 Wouldn't a Netflix for books be neat? You could borrow all the books that you wanted to read and then return them when you're done. Oh wait, they already invented it and called it a library.
But seriously, what if you wanted it all available 24/7 on your iPhone or iPad, and you don't want to wait if someone else has checked it out already. Enter the new eBook subscription app Oyster. For $10 a month (first month free, iPhone/iPad + Android app added as of 6/17/14) they'll let you read all the books you want from their catalog of 500,000+ books. That sounds good me as I buy about a book per month on Amazon as it is. The question is if Oyster's library is big enough for my personal reading habits. I couldn't find a way to search through their entire collection without an active subscription, so I signed up for a trial (credit card required).
As I mainly read business, personal improvement, and personal finance books these days, that is going to be the focus of my review. I decided to compile a list of notable books that I have read or want to read first, and then check Oyster to see if they have it in their library.
William Bernstein's Recommended Reading List for Young Investors
5 Recent Bestsellers
5 Personal Favorite Financial Books
Conclusion
Oyster has been steadily increasing the publishers participating in their service, but it looks like they still have a way to go. They do have a pretty good showing in older, popular, well-reviewed books. The problem is that these are exactly the type of books that are readily available in most libraries. On the other hand, they are weak in recent business bestsellers, which is where they could provide me with the most value and convenience (I'd like to just browse and skim many of these first). I read that they will not have it if the book was released within the last 3 months. They also don't have enough depth to carry some of the better books in the early retirement niche.
I won't be paying $10 a month for this as I only read about a book a month (cost $10-$15) and Oyster probably won't have it in their library. I will note that on a user-experience basis, actually reading the books and navigating around the app has been pretty easy.
Alternatives to Oyster include Scribd and the Amazon Kindle Lending Library which boasts 350,000+ titles. The latter is free if you already have both a Kindle (any model) and an Amazon Prime subscription.