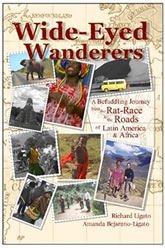 A couple of weeks ago I wrote about the non-traditional retirement story of Richard and Amanda Ligato, which was highlighted in a Nationwide Insurance commercial. Usually TV commercials are too busy convincing you to buy buy buy, so the idea that people who saved half their incomes were shown was amusing.
I ended up buying a copy of their book Wide-Eyed Wanderers: A Befuddling Journey from the Rat Race to the Roads of Latin America & Africa* which covers their journey through Mexico, South America, and Africa. For simplicity and frugality, they bought a 1978 Volkswagen camper-van and basically lived in it the entire trip, driving to all of their destinations (besides being shipped from Panama to Ecuador, and then Chile to South Africa). They cooked their own meals and slept nearly every night in the van.
The Ligato's are one feisty couple. There are multiple stories about them being shaken down by police officers, customs officials, and other government workers for bribes and how they refused to pay any of them. (I think it helped that Amanda is a native speaker of Spanish.) In another incident, they actually tackled a woman who was trying to pickpocket them and ended up arrested in an Argentinian police station (they were eventually released). They weren't as lucky when they reached the bottom of South American and tried to talk their way into a cheap ticket to Antarctica, as they ultimately had to give up as the price was too high.
Me being me, I wanted to learn more about the economics of how they saved, planned, and budgeted for their journey. Unfortunately, they really don't cover this in the book. The topic is only mentioned briefly when they have to hang out with what you might call the "average American traveler". For example, on the Inca Trail in Peru, they wrote about how a fellow hiker realized that the Ligatos had spent as much on their last 15 weeks coming through Mexico and into South America as she alone had spent on her 2-week packaged tour.
For the most part, the book consists of journal entries, each from a different town or city. The stories were nice, although as a whole I wouldn't say the book was exceptionally funny (although there are light moments) or enthralling (although there are some exciting moments). What I'm trying to say is that they aren't professional writers and you shouldn't expect the humor of Bill Bryson or the romanticism of Peter Mayle. This is just a true journal of real people who had a life-changing journey that most people can only dream about.
I highlighted this quote from Rich Ligato, expressed while watching a ceremony to remember the dead in Patzcuaro, Mexico:
If I were to die now would I go without regret? Have I really lived? Unlike many of those who created these ancient traditions, I've been given the free will to choose my path. Have I?
If are reading this, it is likely that you have more freedom in your life than most. Books like this remind me to ask myself: Are you consciously living or just passively getting by?
* I bought a physical copy, but this title should also be included for free if you are part of the Kindle Owner's Lending Library or Kindle Unlimited. It is self-published which is probably why I couldn't find it at my library, but you could still check.