Most homeowners know that they have the option to pay more than their required monthly mortgage note, which will directly reduce the principal. Assuming there is no prepayment penalty, due to the power of compound interest (backwards?) this can significantly shorten your loan period. Whether or not this is a mathematically and/or behaviorally optimal idea is a subject of debate, which I won't go into here.
Anyhow, one of the more popular ways to do this is the "biweekly payment plan". Imagine you had a 30-year mortgage with a payment of $1,200 per month. If you paid $600 every 2 weeks instead, you would be done with the mortgage about five years early! (Use this calculator for more exact numbers.) Because there are 52 weeks in a year and not 48 (12×4), you are essentially making one extra mortgage payment per year.
The attraction of the biweekly plan is that it often coincides with your biweekly paycheck and thus you don't "feel" that you're paying extra.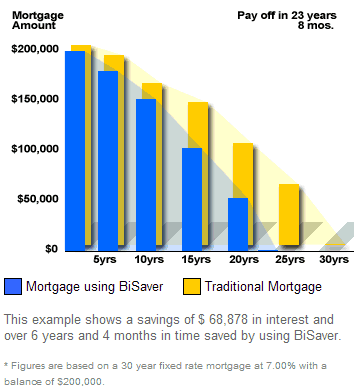 BiSaver®
Today I got an letter from my bank lender about a program called BiSaver, which is basically an automated bi-weekly payment system. Every two weeks the increased biweekly amount is taken from my bank account, and it is eventually paid towards my loan.
However, it costs $399 upfront, plus $1.50 each transfer ($39 annually)*. Another sneaky way they make money is off of the float. Say your loan is due on the 31st of the month. Earlier in the month, on say the 1st and 15th those two biweekly payments (ex. $750 x 2) will be taken out of your bank account. But according to the fine print, only on the 31st will the amount be paid toward your mortgage. In the meantime, BiSaver is earning interest off of those payments.
I really hated this part of their sales pitch:
Can I pay biweekly without BiSaver®?

No. We are not aware of any mortgage company that will accept biweekly or semimonthly payments for a monthly mortgage. What you may do is submit more than your regular monthly payment each month to reduce your principal balance faster and save interest.
No? If you don't credit the actual payment until the end of the month, then you're not saving me anything anyways! In fact, I'm losing the opportunity to earn interest in my own savings account.
Yes, You CAN Do It Yourself For Free
After some research, I found out that "BiSaver" is simply a third-party company that goes around pitching this system to mortgage holders like it is some sort of secret sauce. But really they just accept the payments, and then forward them on to the lender. While it purports to "pay for itself in interest savings" almost instantly, it also neglects to mention that anyone can do this for free. If anything, I'd be paying for the convenience factor. But first ask your bank about one of these options.
Lender-Initiated Automatic Transfers. Right now, my mortgage payment is due on the 15th and the amount is automatically sucked out of my checking account every 10th. This is a system offered by my lender. So I called them up and asked if I could add an additional principal payment to each monthly transfer. The said I could, and it would be free! This confirms my theory that BiSaver pays lenders to market to their customers this fake package, and gives them some sort of kickback. Why not just tell us about the free option??
To replicate the results of the BiSaver program, simply take your monthly mortgage payment and divide it by 12. Now add that to your monthly payment amount. So if you originally paid $1,200 you would add $100 for a total of $1,300 per month.
Use Online Billpay. Now, if your lender doesn't allow this, then you should still be able to make extra principal payments by check. Now simply use your bank's online billpay system and have them send a monthly recurring payment for $100 (using this example) to your lender. To force a paper check, you should simply set up the payee as a "custom payee" and supply the mailing address. You should also be able to designate what to write on the memo line of the check. Again, ask your lender for specifics, but something like "principal reduction" or "apply towards principal only" and also your loan account number should ensure that it does not get confused with your regular payment or escrow account.
Use Savings Accounts. The most simple way to think about this is that you need to make an extra payment per year. Every Jan 1st, just write an extra check for $1,200. If you like automation, just setup recurring withdrawals with an online savings account – they all offer this feature. If you use Capital One Consumer Bank, open up a new subaccount.
* Note: $399 + $39 per year, growing at a rate of 5% annually (not 8% to account for inflation) comes to $3,306 at the end of 25 years. Don't pay for a biweekly payment system when you can do it for free!