Heard some buzz today about some tiny new condos: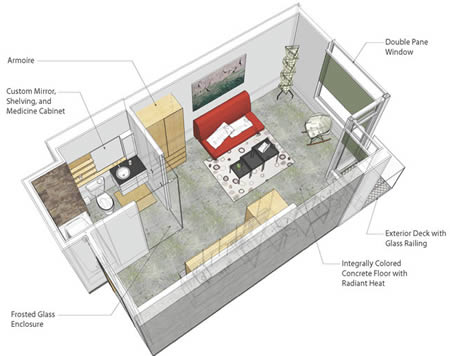 Via SFGate:
Home, small home: 250 square feet in SoMa
New condo development targets young first-time buyers without too much stuff

It's about the size of seven ping-pong tables – and all yours starting at $279,000.

A San Francisco design and development firm has begun marketing 98 tiny condominiums – ranging from 250 to 350 square feet – at the Cubix Yerba Buena building in SoMa. […]

The kitchen area includes a mini sink, two-burner electric cooktop, half fridge and microwave-convection oven. The appliances are stainless steel; the countertop synthetic brown stone. There isn't room for a bed and a sofa, so each studio is staged with a sofa-bed. They come with a wardrobe but no closets.
Efficient? Yes. $300,000? No thanks.
I could probably live in this place if I was single, but no way with two people working varying hours and wanting occasional privacy. At some point, why not just let people live in RVs in parking garages?