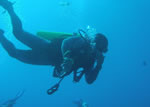 After a busy long weekend*, I am now a PADI Open Water "certified diver". It was nice to check off a "To-Do Before You Die" item, although it did cost nearly $500 if you include all the related costs. The cool thing was that while talking with the dive shop folks, I learned that they needed some website help, and they were willing to pay me with some free dives/gear in exchange. Barter! This was interesting, because diving is a very expensive hobby. I was mainly looking to dive the Great Barrier Reef someday, but now I might be able to dive even more than that.
Now, I can directly exchange (extra) work for play. This begs the question: Is it a good idea to use your desire for something enjoyable in order to motivate yourself to work harder? For example, you may try to follow all of the common advice:
Pay off all credit card or consumer debt.
Have emergency funds for cushion.
Spend less than 30% of income on housing.
Max out your 401k and IRA.
For most people, this doesn't leave all that much left for other stuff. At the same time, most of my friends are so tired from the daily 8-5 grind that they have no interest in doing anything "extra" for more money. This might be as small as doing a paid survey for a few bucks, or as big as starting a new business on the side.
When I start lacking motivation, sometimes I try and focus on something short-term and luxurious that I want. In the past, it might have been a gadget. These days, it's mainly an experience like travel or some sort of lessons (ex. ski, scuba, flying). I tell myself "$1,000 will buy me a flight to Thailand." I am starting to label my "real job income" as taking care of the current basics and the long-term future (retirement), while my side income pays for the "fun".
Does anyone else do this? Isn't this another form of mental accounting? If money is fungible, then you can't really assign labels to specific income sources. To me, it is using mental accounting, but I'm twisting it to my advantage. 🙂
* I was going to use the term "action-packed", but given the circumstances I just hope all the Gustav-watchers are safe and sound.