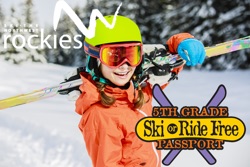 A friend of ours told us about the Colorado Ski Passport that lets 5th and graders from any state ski for free at several Colorado resorts, and I thought that was a great concept to promote this fun outdoor activity. If you can get even a single free lift ticket (and possibly even a free lesson with rentals), that can be a big savings these days. This led me to more digging and I found that several other states have similar programs.
I tried to find all of the state-wide programs and listed them below. I am excluding single-resort promotions, but many resorts do have family or kid specials where you get discounts if you stay for a certain number of hotel nights, etc.
Canada
Colorado
Idaho
Maine
Winterkids App (Annual membership is $35 for a family of 5 and includes "generous discounts" to kids 18 and under" in Maine and New Hampshire)
Michigan
Minnesota
Minnesota Ski Areas 4th Grade Passport (4th graders, unsure if limited to MN residents)
New Hampshire
New York
Pennsylvania
Utah
Vermont
Washington
Some programs do have capacity limitations and/or strict deadlines. If you know of any that I have missed, please let me know in the comments.