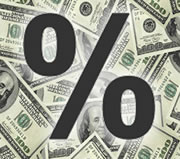 Our family keeps a year's worth of expenses (not income) put aside in cash reserves; it provides financial insurance with the side benefits of lower stress and less concern about stock market gyrations. In my opinion, emergency funds can actually have a better return on investment than what you see on your bank statement.
I don't rate-chase nearly as much as I used to, but it still pays to shop around. Too many places are basically paying ZERO – the Megabanks, short-term US Treasuries, and money market sweep funds. Do you know what Chase offers on a 1-year CD? 0.02% APY. Bank of America on their 5-year CD? 0.15% APY. The highest money market mutual fund in the country yields 0.06%. My Vanguard Prime is at 0.01%.
Best Currently Available Interest Rates
Here is a brief summary of the best interest rates available on deposits backed by the full faith and credit of the US government. I will try to sort them from the shortest to longest maturities.
High-yield savings accounts. There are a variety of online savings accounts out there nowadays, with the highest ones earning around 1% APY. GE Capital Bank has an FDIC-insured Online Savings account paying 1.05% APY with no maintenance fees, no minimum balance, and no minimum to open.
Short-term guaranteed rates. Everbank Yield Pledge Money Market and Interest Checking account both offer 1.40% APY guaranteed (up to $50k each) for the first 6 months for new accounts. Since it is fixed, this is essentially a 6-month CD with a higher rate than any other 6-month CD rate out there and with no early withdrawal penalty to worry about. Salem Five Direct has an eSavings account that pays 1.10% guaranteed until 1/1/16 (~8.5 months left) but the rate is only available to new customers.
"Series I" US Savings Bonds offer rates that are linked to inflation. "I Bonds" bought right now will earn 1.48% total for the first six months, and then a variable rate based on ongoing inflation after that. You must hold them for a year, and if you redeem them within 5 years you lose the last 3 months of interest. While future rates are unknown, the net rate after a year is likely to be competitive with top 1-year CD rates at a minimum, while offering upside if inflation spikes. More info here.
Rewards checking accounts pay above-average interest rates, but with some risk. You have to jump through certain hoops, and if you make a mistake you won't earn any interest all that month. Rates can also drop quickly, leaving a "bait-and-switch" feeling. But the rates can be high while they last. Consumers Credit Union offers up to 5.09% APY on up to a $20k balance, although 3.09% APY is easier to achieve unless you satisfy a long list of requirements. I list this one because the rate is guaranteed until December 31, 2015.
Certificates of deposit. If you have a large cushion, it's quite likely to just sit there for years. Why not put some money in longer-term investments where you can still take it out in a true emergency and pay an early withdrawal penalty. Synchrony Bank (formerly GE Capital Retail Bank) is offering a 5-year CD paying 2.25% APY for $25k+ balances (2.20% APY for $2k+) with an early withdrawal penalty of 180 days interest. For example, if you withdraw from this CD after 2 years and pay the penalty, your effective rate earned will still be 1.69%.
Willing to lock up your money for 10+ years? Did you know that you can buy certificates of deposit via Vanguard's bond desk? These "brokered CDs" offer the same FDIC-insurance and are often through commercial banks like Goldman Sachs. As of this writing, you can get a 10-year CD maturing 4/22/2025 that pays 2.95% APY. Prices will vary regularly.
How about two decades!? "Series EE" US Savings Bonds are not indexed to inflation, but they have a guarantee that the value will double in value in 20 years, which equals a guaranteed return of 3.5% a year. However, if you don't hold for that long, you'll be stuck with the normal rate which is quite low (currently a sad 0.50% APY). Think of it as a huge early withdrawal penalty. You really want to be sure you'll keep it for 20 years.
Finally, how about something out-of-the-box? You can earn up to 2.25% APY within a 529 college savings plan (which can be opened with you as the beneficiary for now). FDIC-insured, and the rate is still pretty good even after a 10% penalty for non-qualified withdrawals.
How about my money? In terms of the opportunities above, I have opened an account at Everbank in the past for the promo rate and I have usually try to buy the max in US Savings I Bonds each year (no EE bonds, too long of a commitment). I don't currently juggle any rewards checking accounts nor do I have any deposits with any other banks mentioned above. It's just not worth it me to switch right now.
Besides some older CDs at higher rates, I keep a good chunk of my money at Ally Bank because right now they are the all-around "good enough" bank for me. Sure I could eek out 1.05% in a savings account somewhere, but Ally Online Savings is paying a 0.99% APY (as of 4/12/15) which serves as a no-fee overdraft companion to my Ally Interest Checking with unlimited ATM fee rebates. Along the same lines, I could get 2.25% in an outside bank's 5-year CD, but Ally has 2.00% APY on their 5-year CDs and a relatively short 150-day early withdrawal penalty. A rate difference of 0.25% on $10,000 over a year is $25, and I'm not sure that's enough to open a CD at another bank when my current Ally CDs mature.
All rates were checked as of 4/12/15.