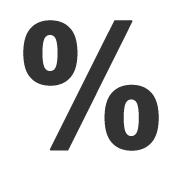 Here's my monthly roundup of the best interest rates on cash for July 2019, roughly sorted from shortest to longest maturities. Rates are dropping a bit, but it still pays to shop around. Check out my Ultimate Rate-Chaser Calculator to get an idea of how much extra interest you'd earn if you are moving money between accounts. Rates listed are available to everyone nationwide. Rates checked as of 7/2/19.
High-yield savings accounts
While the huge megabanks like to get away with 0.01% APY, it's easy to open a new "piggy-back" savings account and simply move some funds over from your existing checking account. The interest rates on savings accounts can drop at any time, so I prioritize banks with a history of competitive rates. Some banks will bait you and then lower the rates in the hopes that you are too lazy to leave.
Wealthfront Cash is at 2.57% APY with no minimum balance. Note that while this account is FDIC-insured, there is no routing number since your money is split amongst four banks and thus you must initiate all transfers through Wealthfront. Northpointe Bank is at 2.55% APY with $25,000 minimum (but guaranteed for 3 months). CIT Bank Savings Builder dropped to 2.30% APY with a $100 monthly deposit (no minimum balance requirement). There are several other established high-yield savings accounts at 2% APY and up, although some have had small drops recently too.
Short-term guaranteed rates (1 year and under)
A common question is what to do with a big pile of cash that you're waiting to deploy shortly (just sold your house, just sold your business, legal settlement, inheritance). My usual advice is to keep things simple and take your time. If not a savings account, then put it in a flexible short-term CD under the FDIC limits until you have a plan.
No Penalty CDs offer a fixed interest rate that can never go down, but you can still take out your money (once) without any fees if you want to use it elsewhere. Marcus Bank has a 13-month No Penalty CD at 2.35% APY with a $500 minimum deposit. Ally Bank has a 11-month No Penalty CD at 2.30% APY with a $25,000 minimum deposit. You may wish to open multiple CDs in smaller increments for more flexibility.
MapleMark Bankt has a 12-month CD at 2.86% APY and $25,000 minimum with an early withdrawal penalty of 6 months of interest. Andrews Federal Credit Union has a 8-month special at 2.86% APY and $1,000 minimum – anyone can join via partner organization for a small fee.
Money market mutual funds + Ultra-short bond ETFs
If you like to keep cash in a brokerage account, beware that many brokers pay out very little interest on their default cash sweep funds (and keep the difference for themselves). The following money market and ultra-short bond funds are not FDIC-insured, but may be a good option if you have idle cash and cheap/free commissions.
Treasury Bills and Ultra-short Treasury ETFs
Another option is to buy individual Treasury bills which come in a variety of maturities from 4-weeks to 52-weeks. You can also invest in ETFs that hold a rotating basket of short-term Treasury Bills for you, while charging a small management fee for doing so. T-bill interest is exempt from state and local income taxes.
You can build your own T-Bill ladder at TreasuryDirect.gov or via a brokerage account with a bond desk like Vanguard and Fidelity. Here are the current Treasury Bill rates. As of 7/2/19, a 4-week T-Bill had the equivalent of 2.22% annualized interest and a 52-week T-Bill had the equivalent of 1.92% annualized interest (!).
US Savings Bonds
Series I Savings Bonds offer rates that are linked to inflation and backed by the US government. You must hold them for at least a year. There are annual purchase limits. If you redeem them within 5 years there is a penalty of the last 3 months of interest.
"I Bonds" bought between May 2019 and October 2019 will earn a 1.90% rate for the first six months. The rate of the subsequent 6-month period will be based on inflation again. More info here.
In mid-October 2019, the CPI will be announced and you will have a short period where you will have a very close estimate of the rate for the next 12 months. I will have another post up at that time.
Prepaid Cards with Attached Savings Accounts
A small subset of prepaid debit cards have an "attached" FDIC-insured savings account with exceptionally high interest rates. The negatives are that balances are capped, and there are many fees that you must be careful to avoid (lest they eat up your interest). Some folks don't mind the extra work and attention required, while others do. There is a long list of previous offers that have already disappeared with little notice. I don't personally recommend or use any of these anymore.
The only notable card left in this category is Mango Money at 6% APY on up to $2,500, but there are many hoops to jump through. Requirements include $1,500+ in "signature" purchases and a minimum balance of $25.00 at the end of the month.
Rewards checking accounts
These unique checking accounts pay above-average interest rates, but with unique risks. You have to jump through certain hoops, and if you make a mistake you won't earn any interest for that month. Some folks don't mind the extra work and attention required, while others do. Rates can also drop to near-zero quickly, leaving a "bait-and-switch" feeling. I don't use any of these anymore, either.
The best one right now is Orion FCU Premium Checking at 4.00% APY on balances up to $30,000 if you meet make $500+ in direct deposits and 8 debit card "signature" purchases each month. The APY goes down to 0.05% APY and they charge you a $5 monthly fee if you miss out on the requirements. There is also the TAB Bank 4% APY Checking, which I don't like due its vague terms. Find a local rewards checking account at DepositAccounts.
If you're looking for a high-interest checking account without debit card transaction requirements then the rate won't be as high, but take a look at MemoryBank at 1.60% APY.
Certificates of deposit (greater than 1 year)
CDs offer higher rates, but come with an early withdrawal penalty. By finding a bank CD with a reasonable early withdrawal penalty, you can enjoy higher rates but maintain access in a true emergency. Alternatively, consider building a CD ladder of different maturity lengths (ex. 1/2/3/4/5-years) such that you have access to part of the ladder each year, but your blended interest rate is higher than a savings account. When one CD matures, use that money to buy another 5-year CD to keep the ladder going.
You could build a CD ladder at First National Bank of America at 3.15% APY for 5-year, 3.05% APY for 4-year, 2.95% APY for 3-year, 2.85% APY for 2-year, and 2.75% APY for 1-year.
5-year CD rates have been dropping at many banks and credit unions, following the overall interest rate curve. A good rate is now about 3.00% APY, with Citizens State Bank offering 3.20% APY ($1,000 minimum) on a 5-year CD with an early withdrawal penalty of 12 months of interest.
You can buy certificates of deposit via the bond desks of Vanguard and Fidelity. You may need an account to see the rates. These "brokered CDs" offer FDIC insurance and easy laddering, but they don't come with predictable fixed early withdrawal penalties. Nothing special right now. As of this writing, Vanguard is showing a 2-year non-callable CD at 2.15% APY and a 5-year non-callable CD at 2.30% APY. Watch out for higher rates from callable CDs listed by Fidelity.
Longer-term Instruments
I'd use these with caution due to increased interest rate risk, but I still track them to see the rest of the current yield curve.
Willing to lock up your money for 10+ years? You can buy long-term certificates of deposit via the bond desks of Vanguard and Fidelity. These "brokered CDs" offer FDIC insurance, but they don't come with predictable fixed early withdrawal penalties. As of this writing, Vanguard is offering 2.60% APY on a 10-year CD. Watch out for higher rates from callable CDs from Fidelity. Matching the overall yield curve, current CD rates do not rise much higher as you extend beyond a 5-year maturity.
How about two decades? Series EE Savings Bonds are not indexed to inflation, but they have a unique guarantee that the value will double in value in 20 years, which equals a guaranteed return of 3.5% a year. However, if you don't hold for that long, you'll be stuck with the normal rate which is quite low (currently a sad 0.10% rate). I view this as a huge early withdrawal penalty. You could also view it as long-term bond and thus a hedge against deflation, but only if you can hold on for 20 years. As of 7/2/19, the 20-year Treasury Bond rate was 2.29%.
All rates were checked as of 7/2/19.