Update late January 2019: Reader Steve shares that "TAB Bank is no longer offering Kasasa Cash Checking. But for those already having an account, no changes are planned."
Original post: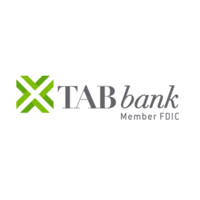 TAB Bank has a Kasasa Cash Checking account that offers 4% APY on balances up to $50,000 if you meet certain deposit activity and debit card transaction requirements. However, they include some vague language that lets them withhold your interest based on their subjective opinion. Details below.
FDIC confirmation and eligibility. I was able to find TAB Bank at FDIC.gov under "Transportation Alliance Bank, Inc. D/B/a Tab Bank" with FDIC certificate #34781 and domain tabbank.com. Since this isn't a credit union, you don't need to worry about joining a member organization or maintain a share savings account. Anyone nationwide can apply online and fund using ACH transfer. They also say that they won't perform a credit inquiry for a checking account.
Monthly requirements. To qualify for the 4% APY on balances up to $50,000 and up to $15 in ATM fee rebates per month, you must have the following during each monthly qualification cycle:
At least 1 direct deposit, ACH payment, or bill pay transaction.
At least 15 debit card purchases, and each must be $5 or more. When using your card, choose the credit option and bypass using your PIN.
If you don't meet these requirements, there is no monthly fee but you lose the ATM rebates and your interest rate is only 0.05% APY.
Potential catch? Vague fine print. If you read through their Truth-in-Savings disclosure [pdf], you will find the following vague assertions:
Purpose and expected use of accounts – The Kasasa Cash account is intended to be the accountholder's primary checking account in which payroll transactions and day-to-day spending activities including but not limited to grocery, gasoline, apparel, shopping, dining, sporting and entertainment transactions are posted and settled.

[…] You will automatically qualify for the account's rewards during your account's first statement cycle. If the account is closed before rewards are credited, you will forfeit the rewards.

[…] Commensurate with the spending activities identified above, we expect the account's debit card to be used frequently throughout each month and for transaction amounts to reflect a wide dollar range. Small debit card transactions conducted on the same day at a single merchant and/or multiple transactions made during a condensed time period particularly near the end of a Monthly Qualification Cycle are not considered normal, day-to-day spending behavior. These types of transactions appear to be conducted with the sole purpose of qualifying for the account's rewards and thus will be deemed inappropriate transactions and will not count toward earning the account's rewards.

[…] TAB Bank reserves the right to determine if the Kasasa Cash account is being maintained for a purpose other than day-to-day, primary use. Accountholders who persist in making debit card transactions in a calculated and limited fashion in order to meet their monthly qualifications may have their accounts converted to a different checking account or closed altogether.
Basically, they reserve the right to change up the requirements to whatever they want. We know that banks make money when we use your debit card. However, if you want your customers to use it more, then just make your requirements higher. You already added the $5 minimum per transaction. Just say you want 15 transactions with a combined total of $1,000 or similar. Make the rules fair, clear, and transparent.
Good deal? The interest rate is good, but the vague rules make this account not worth the bother. They are allowed to judge what I am "supposed" to buy on a day-to-day basis as a "normal" person? Pass! If you put in a sizable balance, that's $100+ of monthly interest that they can withhold for no solid reason (and are actually incentivized to do so as it saves them money).
For now, I would compare with the Orion FCU 4% APY checking account, which doesn't play such games, is more upfront and understandable. If they make the rules transparent (even if more restrictive), I would reconsider.
Bottom line. TAB Bank has a rewards checking account called Kasasa Cash Checking that offers 4% APY on balances up to $50,000 if you meet certain deposit activity and debit card transaction requirements. However, they hide in the fine print that they can withhold your interest based on their subjective opinion. If they judge you ineligible, you will earn virtually no interest (0.05% APY).
Here are the rest of the Best Interest Rates on Cash.