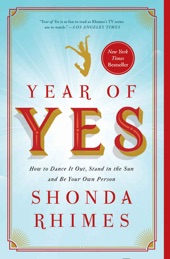 I'd never heard of Shonda Rhimes before stumbling across Year of Yes: How to Dance It Out, Stand In the Sun and Be Your Own Person. Apparently, she created some huge TV shows (Grey's Anatomy, Scandal, How to Get Away With Murder). However, the title caught my eye and the preview sounded interesting:
With three children at home and three hit television shows, it was easy for Shonda to say she was simply too busy. But in truth, she was also afraid. And then, over Thanksgiving dinner, her sister muttered something that was both a wake up and a call to arms: You never say yes to anything. Shonda knew she had to embrace the challenge: for one year, she would say YES to everything that scared her.
After finishing the book, I can see why Rhimes is such a successful writer because she skillfully weaves complex human feelings into what feels like a casual conversation. Here are some quotes and my takeaways:
The most important thing is to take action.
I think a lot of people dream. And while they are busy dreaming, the really happy people, the really successful people, the really interesting, powerful, engaged people? Are busy doing.
Maybe you know exactly what you dream of being. Or maybe you're paralyzed because you have no idea what your passion is. The truth is, it doesn't matter. You don't have to know. You just have to keep moving forward. You just have to keep doing something, seizing the next opportunity, staying open to trying something new. It doesn't have to fit your vision of the perfect job or the perfect life. Perfect is boring, and dreams are not real. Just . . . DO.
You must do the things you think you cannot do. —ELEANOR ROOSEVELT
Things I agree with.
#StopPretendingHashtagsAreTheSameAsDoingSomething
ANYONE WHO TELLS YOU THEY ARE DOING IT ALL PERFECTLY IS A LIAR. […] If I am killing it on a Scandal script for work, I'm probably missing bath and story time at home. If I am at home sewing my kids' Halloween costumes, I am probably blowing off a script I was supposed to rewrite. If I'm accepting a prestigious award, I'm missing my baby's first swim lesson. If I am at my daughter's debut in her school musical, I am missing Sandra Oh's last scene ever being filmed at Grey's Anatomy. If I am succeeding at one, I am inevitably failing at the other. That is the trade-off.
Once I said Yes to difficult conversations, once I said Yes to saying No, I made an interesting discovery. That discovery was: happy, whole people are drawn to happy, whole people, but nothing makes a toxic person more miserable and destructive than a happy, whole person. Unhappy people do not like it when a fellow unhappy person becomes happy. I am absolutely sure that this is true.
Happiness.
Happiness comes from living as you need to, as you want to. As your inner voice tells you to. Happiness comes from being who you actually are instead of who you think you are supposed to be. Being traditional is not traditional anymore. It's funny that we still think of it that way. Normalize your lives, people. You don't want a baby? Don't have one. I don't want to get married? I won't. You want to live alone? Enjoy it. You want to love someone? Love someone. Don't apologize.
This is the real goal of financial independence, financial freedom, early retirement, whatever label you want to apply. You can do what you want, even it it doesn't pay especially well. Most negative coverage of financial independence focuses on the idea of depriving yourself. We live in tiny houses, eat lentils and ketchup packets, and never have any fun. In other words, saying NO. However, I've always thought of it as the pursuit of being able to spend your time doing exactly what you want! It's turning your inner desires from "maybe someday" (AKA never) into YES.
Bottom line. This book is another example that we all have our own hidden struggles, and all we can do is choose to face them and take action. Life isn't fair. Your struggles are hard. Rhimes lost some toxic friends and made many new ones. I'll repeat my favorite quote here – "You just have to keep doing something, seizing the next opportunity, staying open to trying something new. It doesn't have to fit your vision of the perfect job or the perfect life. Perfect is boring, and dreams are not real. Just . . . DO."