As a father of a 2-year-old and 2-month-old, I am now an unquestionable expert on all things parenting (that's how it works, right?). Funny how parents can come off that way when in reality we live in constant fear of messing up our kids permanently.
Since a few readers have asked to write about baby-related things, here is a multi-part series on baby gear organized according to Amazon's Baby Registry system. I realize this only applies to a certain subsection of readers so I'll space the posts out. This is part 1; the entire series can be found with the Baby Gear tag here. The first three items on Amazon's checklist are all items that will ideally occupy your baby while you do all the things you used to take for granted: eat, sleep, shower, use the restroom, and basic personal hygiene.

Playards / Travel Cribs / Playpens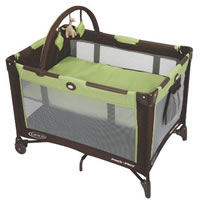 The most popular brand is the Graco Pack N Play, they are like the Kleenex of playards. We received one Pack N Play (PNP) as a gift, and another as a hand-me-down. We've also had to use several of them in various hotel rooms that we've stayed at. They are very easy to set up and take down once you get some practice. Since they are used as travel cribs, really they can function as everyday cribs until your kid physically grows out of it (manual says up to 30 lbs on the bottom, 15 lbs on the raised mesh level).
I had a fantasy of my kids happily playing in them while I did work on the computer, so I set one up in my home office. That did NOT happen. When they are crawling it serves as a handy pen to keep them safe while you're doing something briefly. But our kid never spent more than 15 minutes (awake and happy) in one. These days it serves as a nap area or toy storage bin. The other PNP went to the grandparents' house and mostly serves as a diaper changing table.
Verdict: We got the basic ~$70 Graco Pack n Play playard and it did come in handy. Basically a portable crib. I would say it is more of a convenience than a necessity (unless you use it as a primary crib). I did not miss the extra add-ons like nap stations, changing tables, rocking seats, etc.
Swings and Bouncers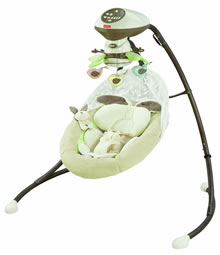 Every parent seems to have a specific swing to recommend. That's because when you find a swing that your kids like and will sleep for an hour or more in, you whisper a Hallelujah! (don't wake the kid!) and weep for joy.
We got a couple different swings as gifts. Baby #1 didn't like them. We tried some of our friends hand-me-downs. Didn't like those either. We bought some used ones from the local kid exchange store. Nope. Our first kid was colicky and simply didn't like swings. One day we were at Nordstroms and saw the $300 retail price Mamaroo. I couldn't believe I was actually considering buying a swing with an LCD display and iPhone connectivity.
Baby #2 actually likes the Fisher-Price Snugabunny Swing because it swings side-to-side and not just front-to-back. Both babies actually preferred this Fisher-Price Rainforest Bouncer due to its vibration feature and colorful distractions. We ate a lot of dinners with that thing in the middle of the dining table.
Verdict: Swings are totally worth the money if your baby sleeps in them. Ours cost $140 but many run much less. Try one that swings side-to-side and front-to-back. Try a vibrating bouncer too.
Soft Baby Carriers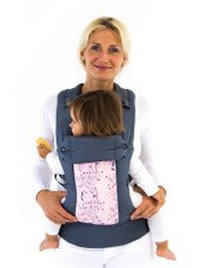 They all carry your baby on your body so that you have both hands free to do something else. It seems like many cultures from around the world have similar ways of carrying their babies, so this is definitely something to at least try.
Mrs. MMB and I both tried a few different ones on and ended up picking the Beco Gemini baby carrier (~$130). It was relatively easy to adjust and get in/out, felt sturdily built, and supported both facing-you and facing-forward positions at a wide range of weights. After using it through amusement parks, airports, and multiple washings, we found it very durable and it should last through multiple kids. Worth the extra cost in our experience.
We thought that both of us could us it, but in the end, it was a lot of trouble adjusting it for size between the both of us, and really she did most of the baby carrying. It worked well and I think both kids preferred the carrier to any car seat, stroller, or swing.
Many other brands are similar: Baby Bjorn, Ergo Baby, Infantino. The Moby Wrap ($40) looked very natural but was pretty difficult to get the baby comfortable despite many viewings of YouTube instructional videos. It's just one big piece of fabric so I'm also not sure why it costs $40. Some people love it, however. Our friends gave us a Mei Tai Carrier ($25) which is more like a Beco/Bjorn but all cloth without plastic clips. I now use it myself to hold the baby around the house. I think the Mei Tai is a good budget version of a Beco-style carrier, although it is more convenient to have the click-in buckles than to tie knots every time.
Verdict: If you are cool with carrying your baby on your body, definitely get one. Starts at just $25. Mrs. MMB uses her baby carrier all the time when out shopping or running errands. Both of our kids napped in them regularly.